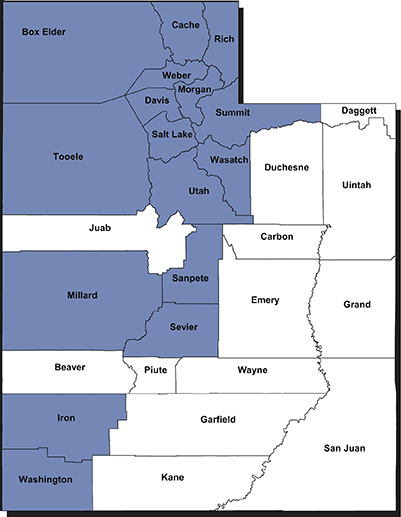 Select Health Share Network and Service Area
9,600+ Participating Providers; 24 Hospitals
Select Health works with employees, employers, and providers to ensure members receive the right care, at the right place, at the right time.
Select Health as the administrator of Select Health Share is committed to:
Proposing meaningful incentives for employers to participate and actively engage in Select Health Share (e.g., predictable multi-year premium rates).
Providing Healthy Living support for employers and employees so they can meet their engagement participation percentages.
Creating evidenced-based plan designs that encourage appropriate healthcare use.
Continuing to develop and maintain the Select Health Share provider and facility network.
Promoting the use of evidence-based medicine and care process models in internal systems, processes, and practices (e.g., integrated Care Management).
Developing reports that aid the employer/agent and physician in meeting their engagement responsibilities.
Developing online tools to support cost and quality transparency.
Implementing an efficient drug formulary to promote effective prescription drug use.
Underwriting and Plan Guidelines
Select Health is the sole carrier within the Share service area.
Employer contributes at least 70% of the premium (based on the employer's lowest cost Select Health Share product) across all rating tiers. This does not include HSA contributions.
At least one of the Select Health Share plans offered to employees must be a qualified high-deductible health plan. A traditional plan design can be offered alongside.
Employer must fund an employer-match HSA contribution equal to 25-50% of the plan deductible for employees choosing a Select Health Share high-deductible health plan.
Select Health Share is the only Select Health plan offered to employees living in the Share service area.
Plan designs align with Select Health Share benefit levels.

Rates: Employer clients receive an underwritten rate in year 1, and then a guaranteed annual increase in years 2 and 3 when employee and employer required engagements are met.*