Healthy Low-Fat Chicken Fried Rice Recipe
Try this healthy recipe that can serve as the perfect lunch or dinner.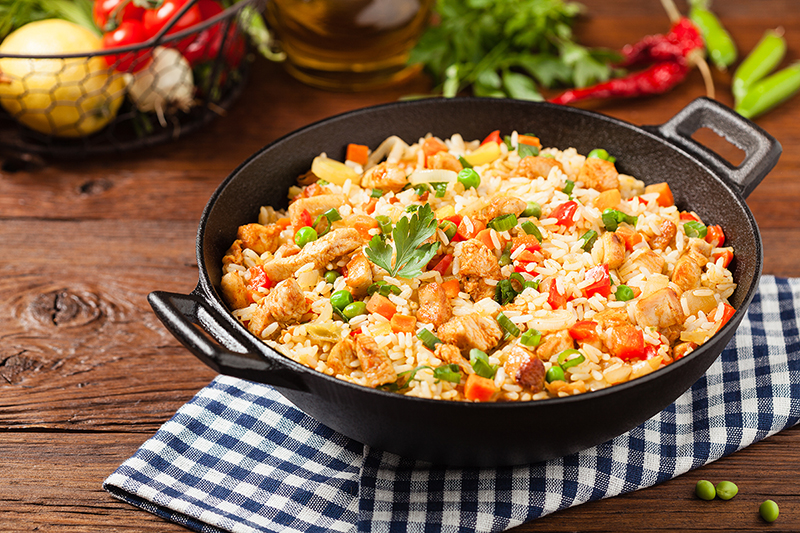 Prep time: 10 minutes
Cooking time: 8 minutes
Serves: 6
Ingredients
Low-fat cooking spray
3 eggs plus 2 egg whites, lightly beaten
Ground black pepper to taste
2 cups long-grain rice, cooked and chilled
7 water chestnuts, sliced
1 tbsp. anchovy paste
1 tbsp. light soy sauce
1 tbsp. light or dark soy sauce
2 spring onions, trimmed and sliced into rounds
1 cup leftover or cooked chicken
Instructions
1. Heat a nonstick wok until hot and coat with cooking spray.
2. Pour in the eggs and scramble, scraping the bits that stick to the wok. Once cooked, remove from the wok and set aside.
3. Add a bit more cooking spray to the wok. Add spring onions and anchovy paste. Heat thoroughly.
4. Add rice, scraping the bottom of the wok and tossing the rice until it is heated thoroughly.
5. Once the rice is hot, add the remaining ingredients (including eggs). Continue to cook over medium heat, mixing continuously for 2 to 3 minutes.
6. Taste and season with pepper and add soy sauce to taste.
Nutrition Facts (per Serving): Calories: 324kcal | Carbohydrates: 51g | Protein: 14g | Fat: 5g | Saturated Fat: 1g | Cholesterol: 101mg | Sodium: 485mg | Potassium: 200mg | Fiber: 1g

Related: Chicken Curry with Brown Basmati Rice
Reference: "Healthy Low-Fat Chicken Fried Rice." Erren's Kitchen, 5 Aug. 2020, https://www.errenskitchen.com/low-fat-chicken-fried-rice/.