Turkey Taco Lettuce Wraps
Whip up an easy and healthy lunch with a bit of Mexican spice.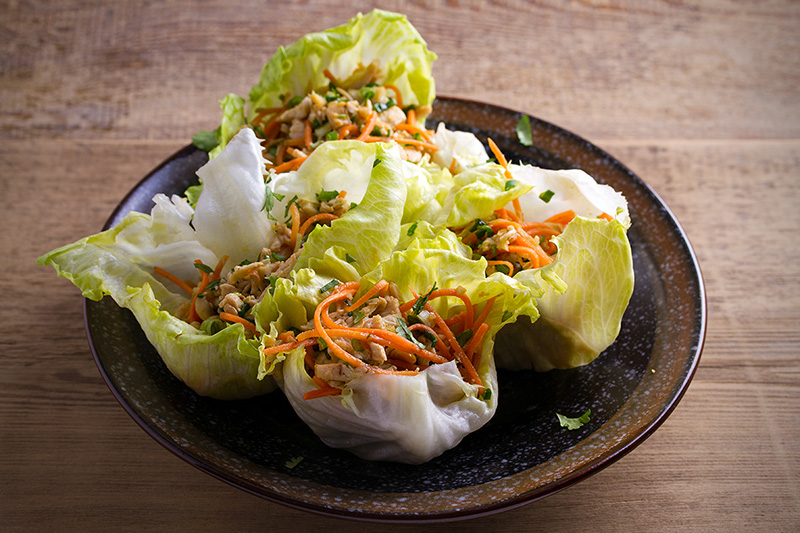 Prep time: 10 minutes
Cooking time: 35 minutes
Serves: 4
Ingredients
1.3 lbs. 99% lean ground turkey
1 tsp. garlic powder
1 tsp. cumin
1 tsp. salt
1 tsp. chili powder
1 tsp. paprika
½ tsp. oregano
½ small onion, minced
2 tbsp. bell pepper, minced
¾ cup water
4 oz. can tomato sauce
8 large Iceberg lettuce leaves
½ cup shredded reduced fat cheddar cheese (optional)
Instructions
1. Brown ground turkey in a large skillet and break into small pieces.
2. When meat is done, add the dry seasonings and mix well.
3. Add onion, pepper, water, and tomato sauce then cover. Simmer on low heat for about 20 minutes.
4. Wash and dry lettuce.
5. Divide the meat equally between the 8 leaves and place in the center of each leaf and top with cheese.
Related: Quick and Easy Restaurant-Style Salsa
Nutrition Facts (per 2 Servings): Calories: 255kcal | Carbohydrates: 6g | Protein: 30g | Fat: 11g | Saturated Fat: 0.5g | Cholesterol: 108mg | Sodium: 849mg | Fiber: 2g | Sugar: 2g

Reference: "Turkey Taco Lettuce Wraps." Skinny Taste, 12 May 2014, https://www.skinnytaste.com/turkey-taco-lettuce-wraps-3-pts/.