Pumpkin Pie Spice Coconut Oil Granola Recipe
Granola is a healthy, versatile, and easy-to-make snack option that saves well. This version is flavored with pumpkin pie spice to add a hint of fall.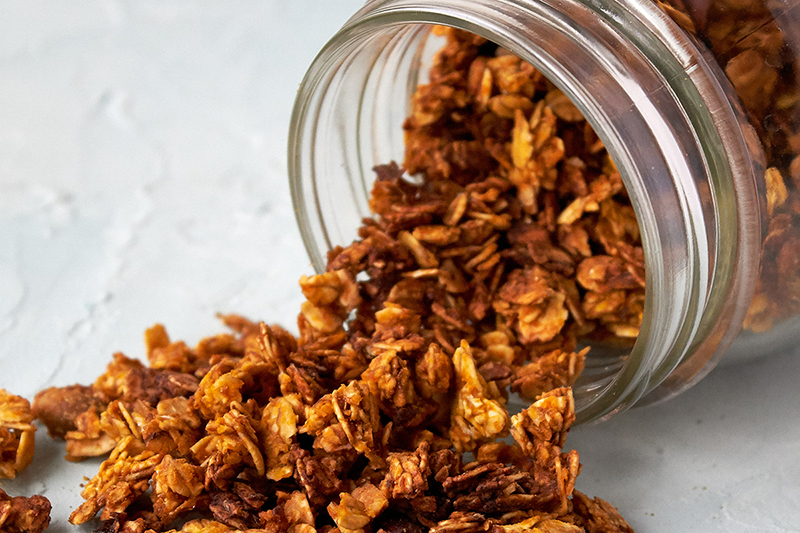 Prep time: 10 minutes
Cooking time: 10 minutes
Serves: 10
Ingredients
1 cup almonds or pecans, divided
3 cups old fashioned oats
½ tsp. salt
1/3 cup brown sugar
½ cup sunflower seeds
1½ heaping tsp. pumpkin pie spice
1/3 cup honey
3 tbsp. coconut oil
½ tsp. vanilla extract
Instructions
1. Preheat oven to 350°F.
2. Divide cup of almonds or pecans into half.
3. In a food processor or blender, pulse half of the almonds or pecans until they are finely chopped. Pour them into a large bowl.
4. Chop the other half of almonds or pecans coarsely and pour them into the same bowl.
5. Add oats, salt, brown sugar, sunflower seeds, and pumpkin pie spice to the bowl and stir to combine.
6. In a small microwaveable bowl, combine honey and coconut oil, and heat for 40 seconds. Stir to dissolve coconut oil and add vanilla extract.
7. Pour the honey mixture over the oats, and stir until they are evenly coated.
8. Pour oats evenly onto a parchment-lined baking sheet.
9. Bake the oats for 4 minutes then stir. Return to the oven for 5 to 7 minutes. Watch closely to avoid burning.
10. Pour the granola onto a piece of wax paper to cool, spreading it evenly into a thin layer about ¼ inch thick.
11. After it completely cools, break the granola into clusters and store in an airtight container.
Nutrition Facts (per Serving): Calories: 305 cal | Carbohydrates: 36g | Protein: 7.4g | Fat: 16g | Saturated Fat: 4.5g | Cholesterol: 0mg | Sodium: 563mg | Fiber: 4.6g | Sugar: 16g

Related: Trail Mix
Reference: "Pumpkin Pie Spice Coconut Oil Granola." Lovely Little Kitchen, 16 Sept. 2014, https://lovelylittlekitchen.com/pumpkin-pie-spice-coconut-oil-granola/