Pumpkin Chili
Throw on your flannel and cozy up after a long day with a hot bowl of pumpkin chili that balances sweet and spicy and is the perfect autumn dish.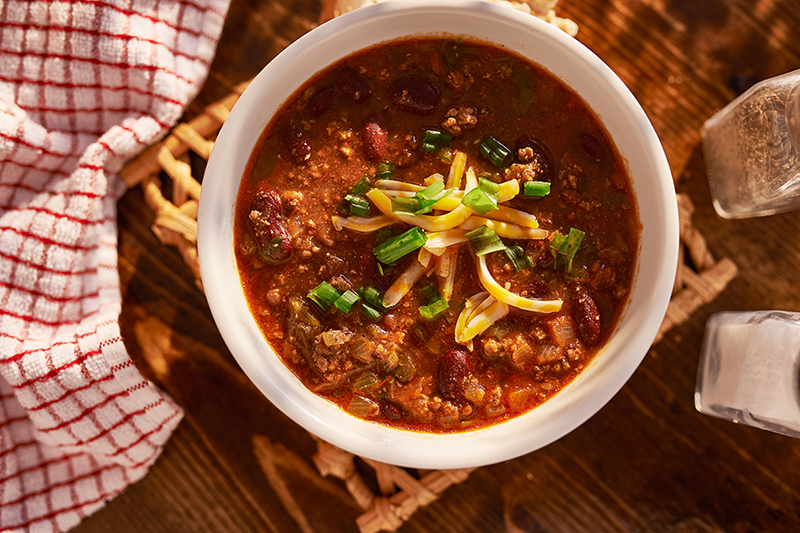 Prep time: 10 minutes
Cooking time: 10 minutes
Serves: 8
Ingredients
1½ tbsp. avocado oil
2 lbs. ground beef
1 large yellow onion, diced
8 garlic cloves, minced
2 green bell peppers, diced
28 oz. fire roasted tomatoes
1½ tbsp. chili powder
1½ tbsp. cacao powder
½ tsp. nutmeg
½ tsp. paprika
1½ tsp. cinnamon
1½ tsp. cumin
1½ tsp. sea salt
½ tsp. black pepper
2 cups bone broth
15 oz. canned pumpkin
Instructions
1. Heat a large saucepan over medium-high heat and add oil.
2. Add ground beef and cook until browned, about 3 to 5 minutes. Drain excess fat and set aside.
3. Add onion, garlic, and bell peppers. Stir occasionally until tender, about 4 to 6 minutes.
4. Stir in tomatoes, cacao powder, and spices.
5. Stir in broth, scraping any browned bits from the bottom of the pot.
6. Stir in pumpkin and meat then season with salt and pepper, to taste.
7. Cook over low heat for 25 to 30 minutes, stirring occasionally.
8. Enjoy!
Related: Light Pumpkin Pancakes
Nutrition Facts (per Serving): Calories: 386kcal | Carbohydrates: 14g | Protein: 24g | Fat: 26g | Saturated Fat: 9g | Cholesterol: 81mg | Sodium: 717mg | Potassium: 550mg | Fiber: 4g | Sugar: 6g | Calcium: 88mg


Reference: "The Best Paleo Pumpkin Chili." The Movement Menu, 8 Oct. 2019, https://themovementmenu.com/the-best-paleo-pumpkin-chili/