7-Ingredient Peppermint Bark
This gluten-free and paleo peppermint bark will be a hit around the holidays and your house.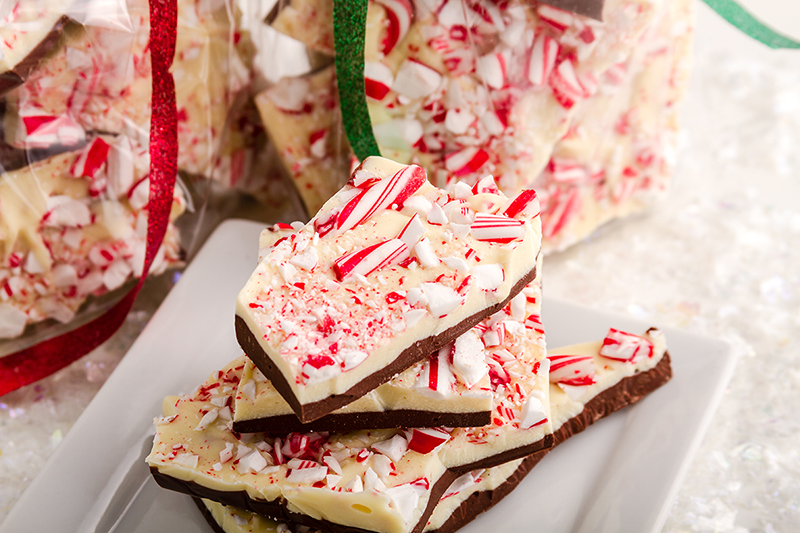 Prep time: 20 minutes
Freeze time: 2 hours
Serves: 15
Ingredients
1 cup dark chocolate chips
½ cup coconut oil, softened
½ cup coconut butter, softened
1 tbsp. pure maple syrup
½ tsp. peppermint extract
1 tsp. vanilla extract
2-3 candy canes or crushed peppermint candies
Instructions
1. Place chocolate chips in a double broiler or a glass bowl over a boiling pot of water, and melt until the chocolate is a smooth consistency.
2. Pour melted chocolate into an 8x8 inch pan lined with parchment paper.
3. Place pan in the freezer for 10 minutes to let chocolate solidify.
4. Slightly melt the coconut oil and coconut butter until it's a thick icing consistency. Add remaining ingredients and whisk together.
5. Take the pan out of the freezer and spread coconut mixture over the chocolate using a rubber spatula.
6. Top with crushed candies or peppermint candies. Place in freezer for about 2 hours.
7. Once set, remove from freezer and break into pieces.
8. Store in freezer.
Related: The Health Benefits of Dark Chocolate
Nutrition Facts (per Serving): Calories: 152kcal | Carbohydrates: 7.5g | Protein: 1.2g | Fat: 14.3g | Saturated Fat: 12.1g | Sodium: 4mg | Fiber: 2g | Sugar: 4.6g


Reference: "Seven Ingredient Peppermint Bark." Mindful Avocado, 7 Dec. 2015, https://mindfulavocado.com/seven-ingredient-peppermint-bark/