How to Make the Switch to Natural Cleaning Products
Here's how to make your own natural cleaning products—you just might already have some of the ingredients in your pantry.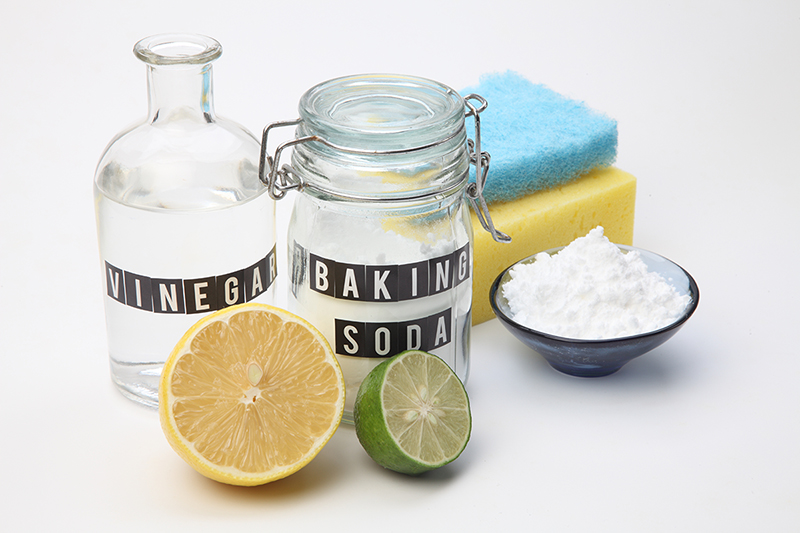 You walk into your bathroom in the morning and notice some unfortunate stains on the otherwise pristine toilet. Of course, you reach for your bleach cleaner for maximum cleaning and disinfecting power, but at what cost?
Why should you switch products?
According to the American Lung Association, Volatile Organic Compounds (VOCs) and other chemicals released during cleaning can contribute to chronic respiratory problems, allergic reactions, and headaches. Some common culprits include: aerosol spray products, air fresheners, bleach, detergent, dishwashing liquid, furniture and floor polish, and oven cleaners.
What can you use instead?
You don't have to settle for toxic chemicals. They can easily be replaced with these inexpensive ingredients such as:
Baking soda – works best on proteins, grease, and animal messes. It's a safe abrasive because it won't cause scratches and it's a natural deodorizer.

Distilled white vinegar – dissolves scale, inhibits mold, and cuts soap scum. It's terrific for removing coffee, rust, and tea stains.

Hydrogen peroxide – don't let the name scare you. This is a safer alternative to bleach that can still disinfect and breaks down into oxygen and water.

Borax – excellent for cutting through grease, oil, and dirt.

Essential oils – while these products don't disinfect, they can add a nice scent to your homemade solutions.

Castile soap – made with olive oil or vegetable base, this is available in both scented and unscented forms and can be purchased as a liquid or a bar.

And yes, natural cleaning products are just as effective as the competition. So now that you have all the ingredients, here are some easy mixtures for all your household cleaning needs:
Glass cleaner
Mix one-part white vinegar, two-parts water, a few drops of Castile soap. Mix in a spray bottle.
Tub/Grout cleaner
For light cleaning, put some baking soda on a damp sponge, scrub, and rinse with warm water; for tough stains and spots, spray surface with white vinegar, scrub with damp sponge or brush and baking soda; for moldy grout stains, mix 1-part hydrogen peroxide with 1-part water. Spray until saturated and let sit for 45 minutes. Wipe down with sponge and rinse well.
Oil/Grease stain remover
Sprinkle baking soda on the stain or spill and scrub with a wet brush.
All-Purpose cleaner
Mix 1 teaspoon borax, ½ teaspoon baking soda, 1 teaspoon liquid soap, and 2 cups warm water. Cover and shake well.
Make sure to store your homemade cleaners in clean, unused containers such as glass spray bottles. Overall, these chemicals are much safer than other options, but be aware they still can damage surfaces. So be sure to check in an unseen spot first, and remember to skip vinegar if cleaning stone, cast iron, aluminum, or waxed surfaces.
How do I properly dispose of household chemicals?
Properly disposing of your household chemicals doesn't have to be intimidating. If available, all you need to do is follow the instructions provided on the product's label. If there are no instructions, don't give up! Consider these suggestions:
1. If the chemical is water-soluble, it can be poured down the drain with running water.
2. Most solid products can be placed in the trash.
3. For other products, call the manufacturer's number on the label for their recommendations or directions to a local disposal facility.

Switching up your cleaning products doesn't have to be challenging. Just begin simply and see what happens.

While you're here, check out our other articles on healthy living. For information on our medical and dental plans, visit selecthealth.org/plans.