Foods That Are Good for Your Skin
Add these foods to your diet and your skin will thank you!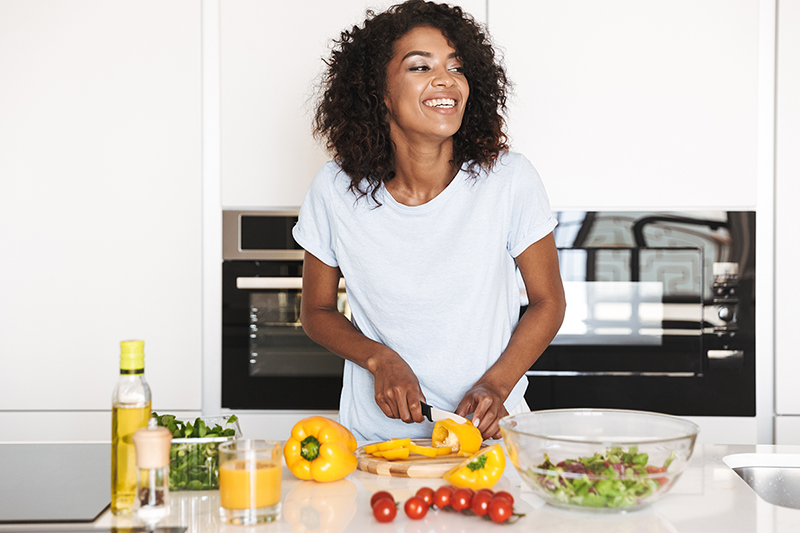 You are what you eat―even when it comes to your skin. Just like the rest of your body, you skin needs powerful nutrients to keep it looking and feeling healthy. Skin is the largest organ in the body—it's roughly 16% of an average adult's body weight. That's why it's so crucial to take care of it. Try nourishing it with these seven skin-healthy foods.
Water
Getting enough water is a gift for your skin. It helps keep it hydrated and improves blood flow, which can give your skin a gorgeous glow. Eight glasses a day is the general recommendation, but it can vary depending on what foods you're eating and how much you sweat through the day.
Related: How To Choose Sunscreen and When To Reapply
Salmon
The magic of salmon is in the omega-3 fatty acids and the antioxidants. Omega-3s keep your cells healthy and strong by helping to reduce cell inflammation and helping your skin to do its job as a protective barrier.
Your body doesn't naturally produce the fatty acids that are found in foods like salmon. So, when you eat them, you're helping your skin do its job of keeping disease and irritation out while keeping in moisture.
Sweet potatoes
Sweet potatoes are full of magnesium and beta-carotene (a powerful antioxidant), making them a great anti-inflammatory food to include in your diet. But don't miss out on eating the skin too! Sweet potato skin has fiber, potassium, vitamin C, and other antioxidants. Try this yummy sweet potato skin recipe if you're not sure how to eat them.
Avocados
Avocados somehow seem to be the magical food that does it all. Because this vegetable can get to the very deepest level of your skin – called the basal layer – it provides essential vitamins and healthy fats all the way down.
Avocados are a great substitute for sour cream or mayonnaise in salad dressing recipes, like in this version of Creamy Avocado Cilantro Lime dressing.
Carrots
The orange color of sweet potatoes signifies a high amount of beta carotene—an antioxidant that your body converts to vitamin A, an essential vitamin that your skin needs to maintain proper health and function. Carrots can also help reduce your skin's oil production. So, make this superfood the main course of your next meal by trying this recipe for Roasted Carrots with Farro, Chickpeas, and Herbed Creme Fraiche.
Bell Peppers
Whether red, yellow, or green, bell peppers are packed with vitamin C and beta carotene. Your body needs vitamin C to make collagen. Collagen is a critical protein in your body and it's what gives your skin structure. Vitamin C also fights free radicals that can damage your skin's elasticity. Get these benefits by making stuffed peppers or fajitas for your next dinner
Try these classic stuffed peppers or easy fajitas to get your pepper fill.
Related: 5 Tips for Preventing Skin Cancer
Pumpkin Seeds
Low levels of zinc are associated with acne. Fortunately, pumpkins seeds are loaded with zinc, so adding them to your diet may help keep your complexion clear. Zinc is a skin-friendly mineral that helps heal wounds and regulate oil glands. To get these healthy skin benefits, roast some pumpkin seeds or add them to a salad for some added crunch.

No matter what skin type you have, your skin will thank you for amping up on these seven tasty foods.

Select Health may link to other websites for your convenience. Select Health does not expressly or implicitly recommend or endorse the views, opinions, specific services, or products referenced at other websites linked to the Select Health site, unless explicitly stated.
The content presented here is for your information only. It is not a substitute for professional medical advice, and it should not be used to diagnose or treat a health problem or disease. Please consult your healthcare provider if you have any questions or concerns.