Instant Pot Fettucine Alfredo
Craving a creamy pasta dish? This healthy instant pot version of Fettuccine Alfredo will give you all the feels of a comfort dish with a fraction of the calories.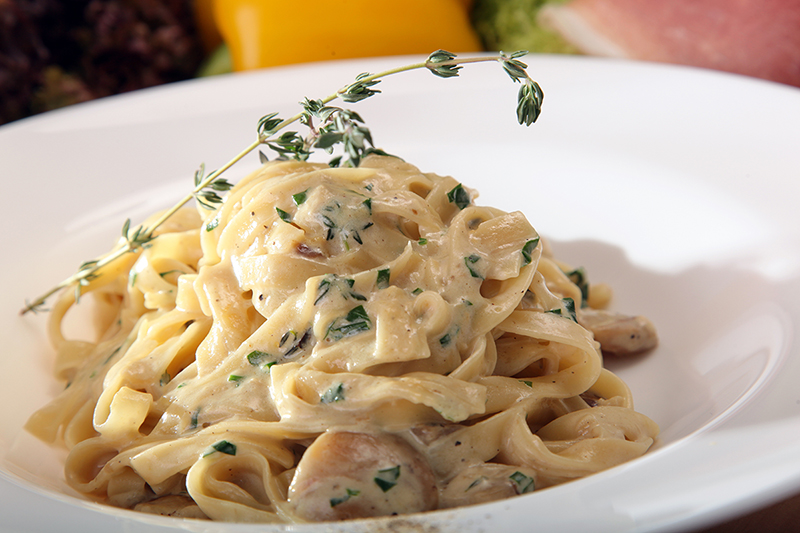 Prep time: 5 minutes
Cooking time: 20 minutes
Servings: 4


Ingredients
8 oz. fettuccine noodles, broken in half
1 tsp. oil
3 cloves garlic, minced
salt and pepper
2½ cups low-sodium chicken broth (or vegetable broth)
1 cup milk, skim or 1%
3 tsp. cornstarch
½ tsp. onion powder
½ tsp. dried basil
½ tsp. dried parsley flakes
1 cup parmesan cheese, freshly grated
Related: Creamy Avocado Pasta
Instructions
1. Add oil to the instant pot and turn to sauté. Once hot, add garlic and stir for 10 seconds. Turn instant pot off.
2. Add fettucine and chicken broth to the instant pot, making sure the noodles are covered in the liquid.
3. Turn valve to sealed and cook on manual (high pressure) for 3 minutes.
4. When the timer beeps, allow the pressure to naturally release for 6 minutes before turning the valve to release remaining pressure and opening the lid.
5. Stir pasta, breaking up any pieces that have stuck together.
6. In separate bowl, stir the cornstarch and milk together until smooth. Add to the instant pot along with the dry spices and parmesan cheese. Season with salt and pepper to taste.
7. Turn instant pot to sauté setting and gently stir noodles until the sauce just begins to thicken. Turn off instant pot.
8. The sauce will thicken significantly as it cools, so allow it to cool for a few minutes before serving. You can add additional cheese to thicken the sauce, as needed.
Nutrition facts: Calories: 405; Fat: 13 g; Protein: 22; Carbohydrates: 75 g; Sodium: 465 mg; Fiber: 1 g

Related: Baked Maple Glazed Salmon
And while you're here, check out other recipes and information on nutrition and diet. For information on our medical and dental plans, visit selecthealth.org/plans.


Select Health may link to other websites for your convenience. Select Health does not expressly or implicitly recommend or endorse the views, opinions, specific services, or products referenced at other websites linked to the Select Health site, unless explicitly stated.
The content presented here is for your information only. It is not a substitute for professional medical advice, and it should not be used to diagnose or treat a health problem or disease. Please consult your healthcare provider if you have any questions or concerns.
Reference: "Tastes Better from Scratch." Instant Pot Skinny Fettucine Alfredo, 2018. Web. 10 Mar. 2020. <https://tastesbetterfromscratch.com/instant-pot-skinny-fettuccine-alfredo/>