Your Winter Workout Survival Guide
Yes, it is possible to stay fit without getting frost bite.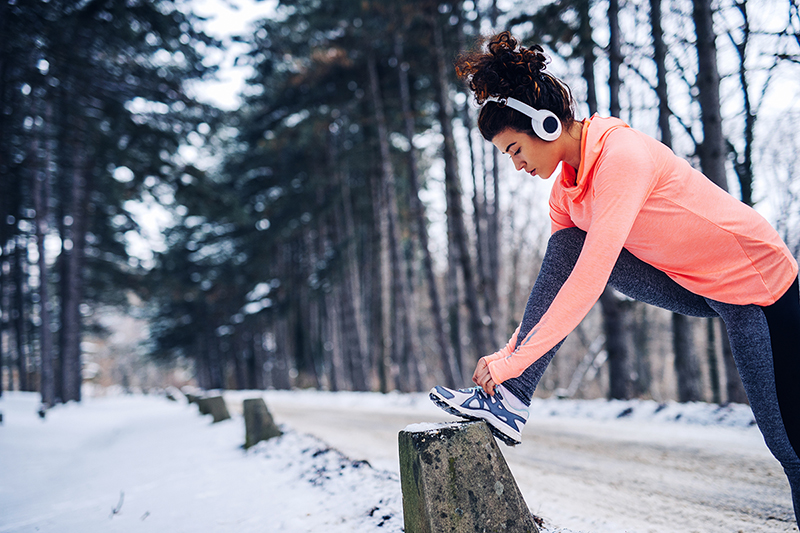 It's a fundamental truth that exercise is important to maintaining your health. But it's also true that some people don't like exercising in the winter. Regardless, you should aim to move your body every day to keep your heart healthy and maintain mental health. But if exercising in the winter seems too challenging, here are some tips to help it seem more doable:
Monitor the thermometer
First thing's first, before you embark on your outdoor heart-pounding expedition, check the temperature so you can know how to dress accordingly. If the temperature is extremely low, it might be a better idea to workout indoors on a treadmill or exercise bike.
Protect your extremities
Your extremities—meaning your fingers, ears, nose, and toes—are most at risk in frigid temperatures, especially when exercising. To keep those sensitive body parts from freezing, wear a warm hat or a headband and always wear gloves or mittens. As for your toes, there are certain types of running shoes or shoe covers that are made to combat chilly temps.
Layer yourself
It's recommended that your base layer shirt is made of fabric that keeps you dry, followed by another layer that insulates and keeps you warm, and one more outer layer that blocks cold wind and repels rain and snow. As you start warming up, you can gradually remove layers so you don't overheat. Pay attention to how your body feels.
Related: DIY Workout: Creative At-Home Workouts
Wear bright colors
Winter is the darkest time of the year, and rain, sleet, snow, and slush can limit vision for drivers at times. It's important to wear bright or reflective clothing if you are exercising outside, especially if you are running or biking near busy roads. To stay safe, always be mindful of your surroundings.
Drink up
The air might be filled with more moisture in the winter, but that doesn't mean you are. Studies show that we don't drink as much during the winter, which can leave you at risk for dehydration. Always keep a water bottle handy and take frequent drinks.
Warm up
You should always take time to stretch and warm up before your workout. And, after exercising in the cold, take time to warm your body up after your workout too.
Breathe the right way
Chilly air can shock your lungs while exercising, and getting enough oxygen is vital to your endurance during a workout. A few techniques to try include placing a scarf around your mouth and nose while exercising or inhaling through your nose and exhaling through your mouth.
Try something new
If outdoor running and cold temps aren't your jam, winter is a great time for taking advantage of new opportunities. You could sign up for a spin class, hit the indoor pool, try rebounding on a trampoline, or visit a hot yoga studio to get extra toasty. There are also thousands of fun and effective workouts you can do in your home with or without equipment. Don't be afraid to venture out of your comfort zone to find what you love doing!
Whatever you choose, regular exercise is so important when it comes to staying healthy mentally, physically, and emotionally. And regardless of the temperature outside, there are many ways to get your body moving!
Related: Tips for Keeping Your Skin and Hair Healthy in the Winter