Dark Chocolate Raspberry Trifle
This festive and easy to make Dark Chocolate Raspberry Trifle is not only beautiful and delicious, it's the perfect dessert to take to a holiday party.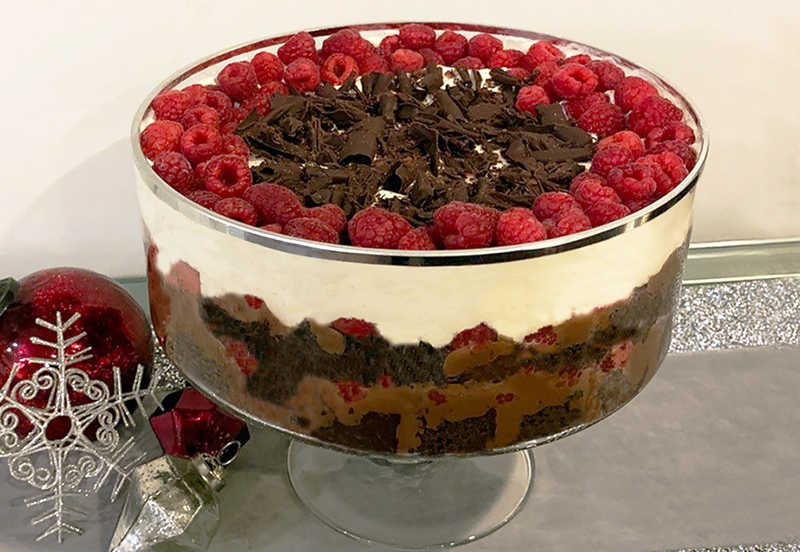 Yield: 24 servings
Preparation: 45 minutes
Bake: 35 minutes
Cake
99% residue-free baking spray with flour
1 15.25 oz. Devil's Food cake mix
1 3.9 oz. box instant chocolate fudge pudding mix
3 large eggs
1½ cups low-fat buttermilk
¼ cup crème de cacao chocolate liqueur or ¼ cup skim milk
2 tbsp. extra virgin coconut oil
1 tsp. vanilla extract - optional
Filling
¾ cup granulated sugar divided into ½ cup and¼ cup
¼ cup unsweetened Dutch-Processed cocoa powder
4 large egg yolks
½ cup chocolate liqueur or skim milk divided into a ¼ cup each
¼ cup salted butter
2 cups whipping cream
¼ cup powdered sugar divided into 2 tbsp. each
2 tsp. vanilla extract divided into 1 tsp. each
1½ pints (3 cups) fresh raspberries, gently rinsed and air-dried
chocolate curls or cocoa powder for dusting top – optional (see recipe below)
1. Heat oven to between 325° F. Spray a 13 x 9 x 2-inch non-stick baking pan with baking spray. Combine cake and pudding mixes in a large mixing bowl. In a separate bowl, lightly beat eggs with buttermilk, liqueur or milk, oil, and vanilla. Pour liquids into dry ingredients and beat on medium for 2 minutes. Bake cake for 35 minutes or until a toothpick inserted near center comes out clean. Cool cake in pan on a wire rack for ten minutes, then invert cake directly onto rack, remove pan, and cool cake completely.
2. Set a pan of water to simmer. Mix coco powder with ¼ cup sugar. Combine yolks with ½ cup sugar, butter, and liqueur in a metal bowl. Whisk coco sugar into yolk mixture a little at a time, until combined. Place bowl over water. Whisking constantly, cook mixture until a thermometer reads 140°, about 7 minutes.
3. In a metal bowl, beat 1 cup cream with 2 tbsp. powdered sugar and 1 tsp. vanilla to medium-firm peaks. Fold into chocolate mixture until no white remains. Cover surface of mousse directly with plastic wrap and refrigerate 1 or more hours.
4. Once the cake has cooled, cut into 1½-inch cubes. Cover and set aside. Whip the remaining 1 cup cream with powdered sugar and vanilla to medium-firm peaks.
5. Begin layering trifle: Arrange half of the cake in a 4-quart glass bowl or dish and compress slightly to fit.
6. Spread half of the chocolate mousse over cake cubes. Top with 1½ cups raspberries and half of the whipped cream. Repeat layering. Garnish top with chocolate curls and serve or cover and refrigerate until ready to serve.
Nutrition Facts: 250 calories; 11g fat; 32g carbohydrate; 2g fiber; 4g protein; 87mg cholesterol; 210mg sodium;
Traditional Nutrition Facts: 375 calories; 24 g fat; 37 g carbohydrates; 2g fiber; 4g protein; 100 mg cholesterol; 300mg sodium
Related: Light Pumpkin Cheesecake
Chocolate Curls
non-aerosol cooking spray
2 oz. bittersweet sweet chocolate chips
parchment paper or baking sheet liners sheets
1. Line a baking sheet with parchment paper and spray with cooking spray. Melt chocolate in the microwave on 30% power, stirring every 20 seconds until smooth. Pour melted chocolate onto parchment paper. Using an offset spatula, spread chocolate as thin as possible and place in the freezer for 5 minutes or until firm.
2. Remove from freezer and take chocolate off baking sheet. Flip baking sheet over and lay chocolate/parchment over the bottom of baking sheet. Holding parchment, carefully use a metal spatula or scraper to scrape the chocolate off the paper into curls.
3. If the chocolate begins to soften, put it back into the freezer for a few minutes. Once curled, place the pan back in the fridge until ready to use. Using a spatula, transfer curls gently to the top of trifle.
Nutritional Talking Points:
This light version of Dark Chocolate Raspberry Trifle has less than half the fat and a third less calories, cholesterol, and sodium of the traditional recipe.
1. I reduced the oil in the cake mix from ½ cup to 2 tablespoons of extra virgin coconut oil saving, 84g of fat. I replaced the liquids from the fat and water with low-fat buttermilk and chocolate liqueur. Buttermilk helps cakes rise and adds moisture, giving the a more tender crumb. The liquor adds flavor and necessary liquid.
2. I kept the 3 eggs called for in the cake and the 4 yolks needed for the chocolate mousse. Eggs are a perfect food and they do not increase serum cholesterol. Eggs are also necessary to baking—they provide the structure and strength required to leaven baked goods and thicken the chocolate mousse, adding smooth richness and flavor.
3. I replaced the 4 oz. of bittersweet chocolate chips at 605 calories and 45g fat with ¼ cup unsweetened cocoa powder and ¼ cup sugar at 254 calories and 4g fat. This reduced the recipe's fat by 41g and the calories by 351.
4. I cut the sugar in the chocolate mousse from ¾ cup to ½ cup saving 95 calories and 25g of sugar per serving.
5. I reduced the heavy whipping cream from 2½ cups to 2 cups saving another 22g of total fat and 772 calories and 193g of simple sugar.
Reference: Recipe by Select Health Chef Mary E. Ross
Select Health may link to other websites for your convenience. Select Health does not expressly or implicitly recommend or endorse the views, opinions, specific services, or products referenced at other websites linked to the Select Health site, unless explicitly stated.
The content presented here is for your information only. It is not a substitute for professional medical advice, and it should not be used to diagnose or treat a health problem or disease. Please consult your healthcare provider if you have any questions or concerns.