Barbecue Chicken Flatbread
Barbecue chicken flatbread: A quick and easy recipe the whole family will enjoy.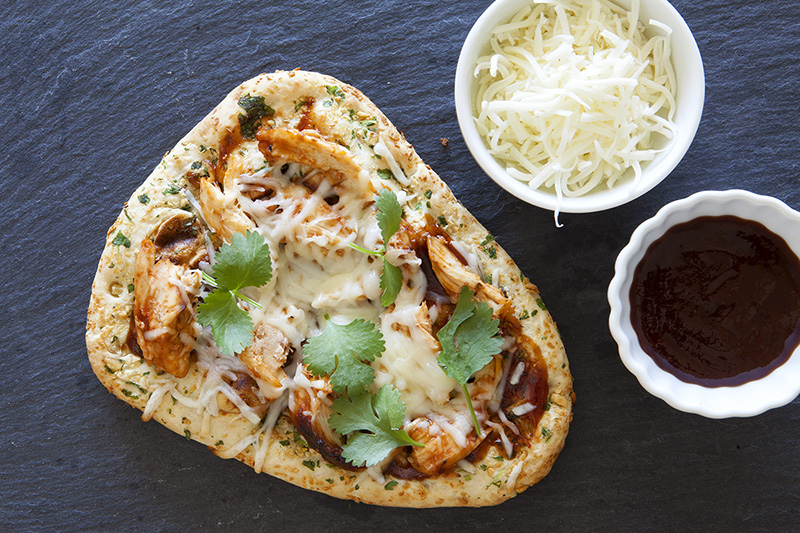 Total time: 45 minutes
Serving size: 1 flatbread
Serves 4
Ingredients
2 chicken breasts, diced into 1-inch cubes
1½ cups BBQ sauce, divided
4 whole wheat naan flatbreads
1 cup red onion, thinly sliced
½ cup cilantro, chopped
¾ cup low-fat mozzarella
Instructions
1. Add diced chicken and 1 cup BBQ sauce to a plastic resealable bag and coat chicken well. Place in fridge to marinate for at least 30 minutes or up to 24 hours.
2. Adjust rack to the top middle of the oven and preheat to 350 degrees.
3. Place naan flatbreads directly onto to oven rack and bake until slightly crispy, about 10 minutes.
4. Meanwhile, over medium-high heat, sauté chicken until cooked through.
5. Slice red onion and dice cilantro, set aside.
6. Remove naan from oven to plate. On each flatbread, spread about 2 tablespoons of BBQ sauce. Top with red onion, cilantro, and chicken as desired. Sprinkle cheese over toppings. Put back into oven to allow cheese to melt, about 5 to 7 minutes.
7. Remove and slice into quarters with a pizza cutter.
Related: Grilled Sweet Potatoes with Cilantro Lime Dressing
Nutrition Facts: per serving Calories: 530; Carbohydrates: 72 g; Protein: 30 g; Saturated Fat: 6 g; Dietary fiber: 6 g; Sodium: 1080 mg
For information on our medical and dental plans, visit selecthealth.org/plans. And while you're here, check out other recipes and information on nutrition and diet.