Grilled Sweet Potatoes with Cilantro Lime Dressing
Fire up the grill: It's time to make this recipe for grilled sweet potatoes served with a flavorful cilantro dressing. It'll make a great summertime side dish.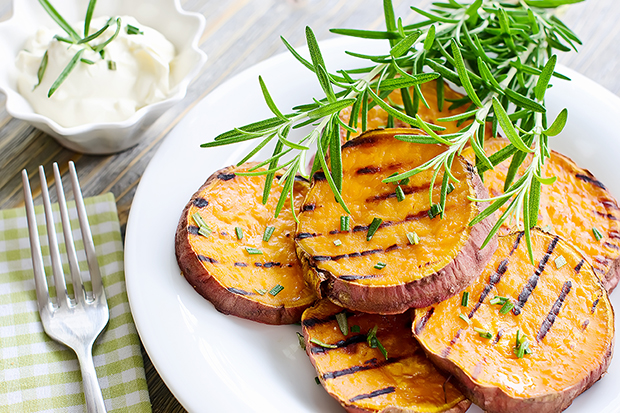 Prep time: 20 minutes
Total time: 30 minutes
Makes 4 servings
Ingredients
2 pounds sweet potatoes
3-4 tbsp. olive oil
Sea salt
Dressing
¼ cup finely chopped fresh cilantro
1 tsp. lime or lemon zest
2 tbsp. fresh lime or lemon juice
¼ cup olive oil
Pinch of salt
Instructions
1. While the grill is heating up, peel the sweet potatoes and slice lengthwise into ¼ inch-thick pieces.
2. Coat the sweet potato slices with olive oil and lightly sprinkle with sea salt.
3. Make the dressing: Combine all dressing ingredients into a small bowl.
4. Grill the sweet potatoes: Once the grill is hot, place sweet potato pieces onto the grill grates. Cover the grill and cook roughly 3-6 minutes per side, depending on how hot your grill is.
5. Toss the sweet potatoes in a bowl with dressing or serve the dressing on the side. Serve immediately.
Nutrition facts:Calories: 281; Carbohydrates: 15.9 g; Protein: 1 g; Saturated Fat: 3.4 g; Sugars: 3 g; Dietary fiber: 2 g; Cholesterol: 0 mg; Sodium: 47 mg
Related: Spiced Grilled Chicken with Lemon
For information on our medical and dental plans, visit selecthealth.org/plans. And while you're here, check out other recipes and information on nutrition and diet.
Reference: "Grilled Sweet Potatoes." Simply Recipes, 2016. Web. 21 May. 2019. <https://www.simplyrecipes.com/recipes/grilled_sweet_potatoes/>