Grilled Corn with Basil Butter
If you love corn on the cob, you'll love it grilled and brushed with seasoned butter.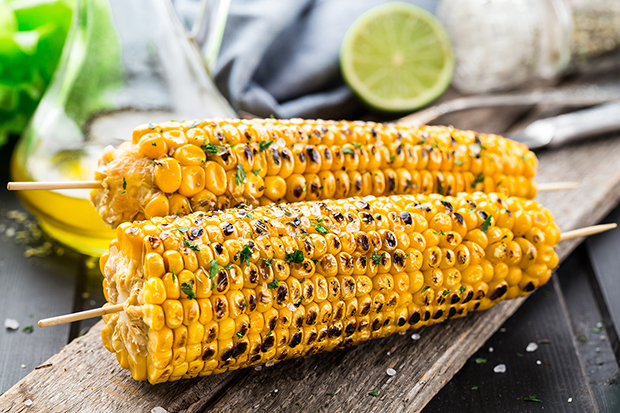 Total time: 25 minutes
Makes 8 servings
Ingredients
1 cup unsalted butter, at room temperature
1 cup loosely packed fresh basil leaves
¼ tsp. salt
¼ tsp. pepper
1 clove garlic, minced
8 ears corn, husked, washed, and dried
1-2 tbsp. vegetable oil
Salt and pepper, to taste
Instructions
1. Preheat grill to medium-high heat.
2. Place the ingredients for the basil butter (butter, basil, ¼ teaspoon each salt and pepper, and garlic) in the bowl of a food processor and pulse until blended. Transfer to a small bowl and set aside.
3. Brush the corn with vegetable oil and season with salt and pepper to taste.
4. Grill for about 10 to 15 minutes, turning frequently, until corn is charred and tender. Serve immediately with basil butter.
Nutrition Facts: Calories: 326; Fat: 27; Carbohydrates: 22 g; Protein: 4.5 g; Sugars: 5.8 g; Dietary fiber: 6 g; Cholesterol: 62 mg; Sodium: 92 mg
Related: Spiced Grilled Chicken with Lemon
For information on our medical and dental plans, visit selecthealth.org/plans. And while you're here, check out other recipes and information on nutrition and diet.
Reference: "Grilled Corn with Basil Butter." Let's Dish, 2016. Web. 21 May. 2019. <https://letsdishrecipes.com/2016/06/grilled-corn-with-basil-butter.html>