Watermelon Mint Goat Cheese Salad
This easy-to-prepare salad mixes salty and sweet flavors for a light and refreshing side dish.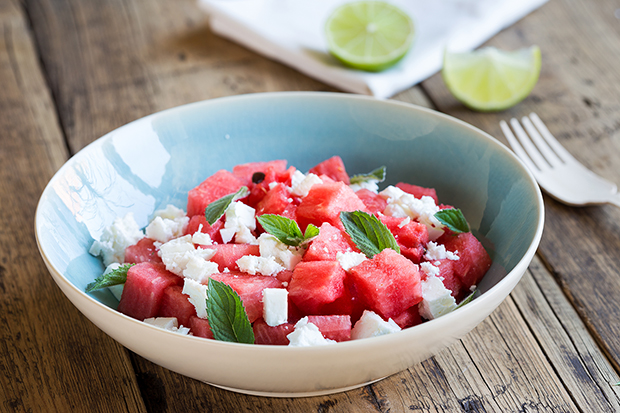 Prep time: 15 minutes
Makes 4 servings
Ingredients
4 cups watermelon cubed
6 mint leaves, minced
1/3 cup goat cheese
Juice of one lime
Instructions
1. Toss all ingredients together in a large bowl—serve immediately.
Nutrition Facts (per serving): Calories: 96; Carbohydrates: 12; Fat: 4 grams; Protein: 4 grams; Sodium: 67 mg; Fiber: 0.6 gram
Related: Fruit Salad with Honey Lime Mint Dressing
For information on our medical and dental plans, visit selecthealth.org/plans. And while you're here, check out our other articles on nutrition and diet.
Reference: "Watermelon Mint Aged Goat Cheese Salad Recipe," Jeanette's Healthy Living, 2015. Web. 15 May 2019. <https://jeanetteshealthyliving.com/watermelon-mint-aged-goat-cheese-salad-recipe/>