Pineapple Guacamole
HOLY GUACAMOLE! This guac has a fruity twist, with pineapple balancing the salty with some sweetness.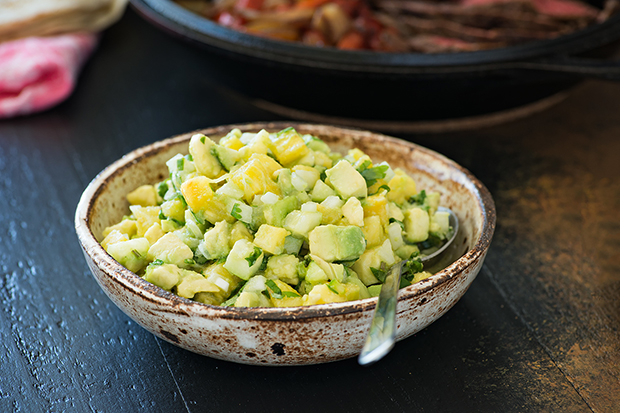 Prep time: 10 minutes
Makes about 2 cups
Serving size: ½ cup
Ingredients
2 to 3 avocados, pit and skin removed
Juice of 1 lime, divided
¼ tsp. sea salt, divided (or to taste)
1 small clove garlic, finely minced or grated
½ cup fresh pineapple, diced (or use up to 1 cup of fruit for a super sweet guacamole)
¼ cup red onion, diced
¼ cup jalapeńo pepper, seeded and diced (about 1 small pepper)
2 tbsp. cilantro, finely chopped (or to taste)
Instructions
1. In a large mixing bowl, mash the avocados with half of the lime juice, ¼ teaspoon of salt, and the garlic until smooth.
2. Fold in the pineapple, onion, pepper, and cilantro.
3. Stir in the remaining lime juice and season with more salt, if needed.
4. Serve immediately.
Nutrition Facts: Calories: 235; Carbohydrates: 15 g; Protein: 3 g; Saturated Fat: 2.8 g; Sugars: 3 g; Dietary fiber: 9 g; Cholesterol: 0 mg; Sodium: 156 mg
Related: Avocado Toast with Egg
For information on our medical and dental plans, visit selecthealth.org/plans. And while you're here, check out other recipes and information on nutrition and diet.
Reference: "Pineapple Guacamole." Always Nourished, 2017. Web. 16 May. 2019. <https://www.nourishedtheblog.com/pineapple-guacamole/>