Avocado Toast with Egg
A healthy, balanced breakfast doesn't have to be complicated. Get protein, grains, and healthy fats all in one meal with this recipe for avocado toast with egg.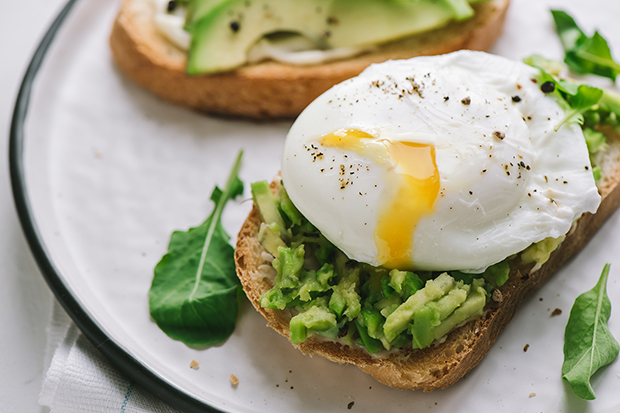 Prep time: 15 minutes
Makes 4 servings
Serving size: 1 toast
Ingredients
4 eggs
4 pieces hearty whole-grain bread
1 avocado, mashed
½ tsp. salt (optional)
¼ tsp. ground black pepper
1/4 cup nonfat plain Greek yogurt
Instructions
1. To poach each egg, fill a 1-cup microwaveable bowl with ½ cup water. Gently crack an egg into the water, making sure it's completely submerged. Cover with a saucer and microwave on high for about 1 minute, or until the white is set and the yolk is starting to set but still soft (not runny).
2. Toast the bread and spread each piece with ¼ of the mashed avocado.
3. Sprinkle avocado with the salt (optional) and pepper. Top each piece of toast with a poached egg. Top the egg with 1 tablespoon Greek yogurt.
Related: Eggs Florentine with Spinach and Tomatoes
Nutrition Facts: Calories: 240 Carbohydrates: 25 g Protein: 12 g Saturated Fat: 2.8 g Sugars: 4 g Dietary fiber: 9 g Cholesterol: 185 mg Sodium: 230 mg Potassium: 325 mg
For information on our medical and dental plans, visit selecthealth.org/plans. And while you're here, check out other recipes and information on nutrition and diet.
Select Health may link to other websites for your convenience. Select Health does not expressly or implicitly recommend or endorse the views, opinions, specific services, or products referenced at other websites linked to the Select Health site, unless explicitly stated.
The content presented here is for your information only. It is not a substitute for professional medical advice, and it should not be used to diagnose or treat a health problem or disease. Please consult your healthcare provider if you have any questions or concerns.
Reference: "Egg and Avocado Toasts. Recipes for Healthy Living. American Diabetes Association, 2017. Web. 18 Mar. 2019. < https://www.diabetesfoodhub.org/recipes/egg-and-avocado-toasts.html>