Spiced Grilled Chicken with Lemon
If you're planning your first barbecue of the season, here's a great grilled chicken recipe—spiced with cumin, ginger, and paprika.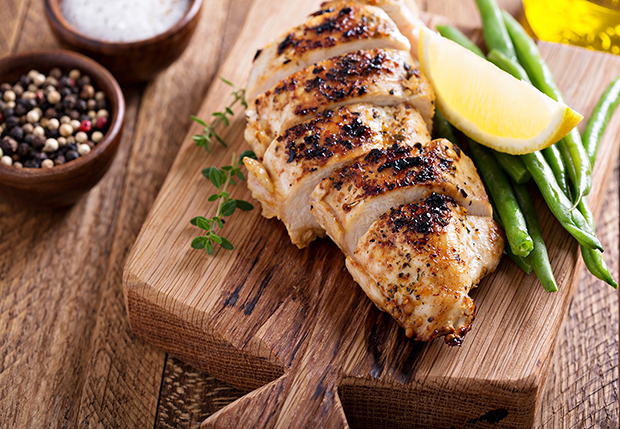 Makes 4 servings
Prep time: 8 hours
Cook time: 6 minutes
Serving size: 2 tenders
Ingredients
8 chicken tenders (or tenderloin), rinsed and patted dry (about 1 pound)
1 cup nonfat, plain Greek yogurt
Grated rind and juice of a large lemon
1 tablespoon paprika
1 tablespoon grated gingerroot
1 teaspoon ground cumin
1/2 teaspoon garlic powder
1/2 teaspoon salt
1 medium lemon, quartered (optional)
Instructions
1. Combine all ingredients, except the lemon quarters, in a one-gallon resealable plastic bag. Seal tightly and toss back and forth until well coated. Refrigerate 8 hours.
2. Heat a grill pan liberally coated with cooking spray over medium-high heat. Remove chicken from marinade, discarding marinade, and grill 3 minutes on each side or until no longer pink in center. Serve with the quartered lemon, if desired.
Nutrition Facts
Serving size: 2 tenders
Calories: 175 Carbohydrate: 5 g Protein: 30 g Fat: 3 g Saturated fat: 0.8 g Sugar: 3 g Dietary fiber: 1 g Cholesterol: 65 mg Sodium: 375 mg Potassium: 345 mg
Related: Chicken Lettuce Wraps
Select Health may link to other websites for your convenience. Select Health does not expressly or implicitly recommend or endorse the views, opinions, specific services, or products referenced at other websites linked to the Select Health site, unless explicitly stated.
The content presented here is for your information only. It is not a substitute for professional medical advice, and it should not be used to diagnose or treat a health problem or disease. Please consult your healthcare provider if you have any questions or concerns.
Reference: "Spiced Lemon Yogurt Chicken Tenders." Recipes for Healthy Living. ADA. n.d. Web. 19 Mar. 2019. < https://www.diabetesfoodhub.org/recipes/spiced-lemon-yogurt-chicken-tenders.html>