5 Reasons to Have an Exercise Buddy
If you're looking for a little extra motivation to work out, why not find a friend to help you reach your fitness goals?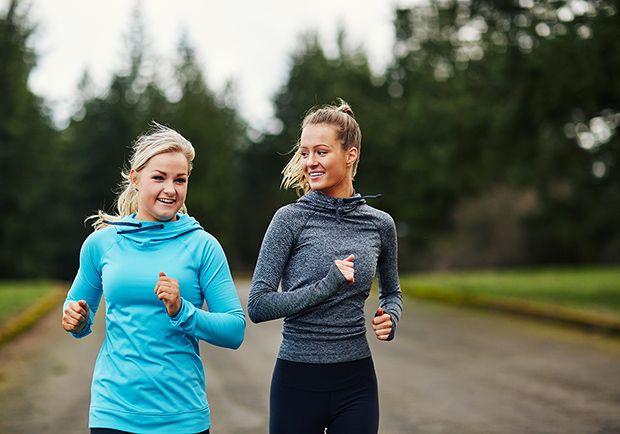 If you've been wanting to start running three times a week but are struggling to hit the road, or you want to bench press but don't have someone to spot you, you could probably use an exercise buddy.
Here are a handful of reasons why a buddy can help you achieve your goals:
Increased accountability
When you have someone to answer to every morning before you head to the office, you're more likely to get out of bed and start putting in the work. Getting out of bed can be rough when it's so easy to hit the snooze button. But when you have an exercise buddy, you have someone who will text or call you to see if you're still going to work out that morning. You're more likely to go to the gym when your buddy is counting on you.
Related: How to Make Time for Exercise
Learn new techniques and routines
Are you still following the same workout regimen you learned in your high school gym class? Having an exercise buddy can change that for you. Since most people have not had the exact same life experiences as their workout partner, you're likely to learn new skills and techniques.
This holds true for any form of exercise from boxing to yoga. Don't be afraid to learn from your exercise buddy because it may be what you need to lose that extra pound or two or recover from injury at a faster rate.
Safety precautions
Having a partner to count on is key to being safe when it comes to different activities such as hiking and weightlifting. A workout buddy is great when running at night or doing something like rock climbing, so you can get home safely after every outing. Plus, you're likely to push yourself harder when you have someone by your side.
Related: The Best Time of Day to Work Out
You'll have more fun
According to a study in the International Journal of Stress Management, you're more likely to enjoy yourself when working out with someone else. People naturally enjoy doing difficult things with others. Exercising with a buddy will help you quickly reduce stress while strengthening your cardiovascular system. With your stress level down, you'll feel more motivated to do your best in every other aspect of your life—from work to spending time with family.
Quality time
Working out with a significant other is an effective way to spend quality time while improving your health. Here's an added bonus: You can work on your physical and emotional health simultaneously. It doesn't matter if you and your significant other like to play basketball or do yoga. As long as you're working out and enjoying each other's company, your time together will be time well spent.