How to Cope with Wildfire Smoke
Because fires are still burning in the western part of the country, it's important to know what to do to protect you and your family.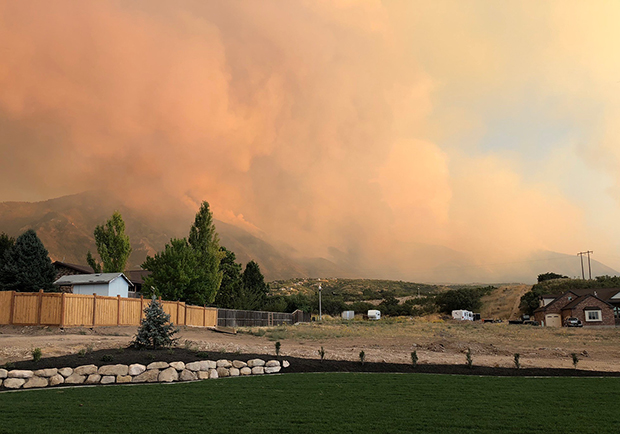 Wildfires are impacting many areas of the country. This makes smoke inhalation a serious concern. Some people aren't sensitive to smoke. But for others, breathing in smoke can have severe consequences. Here's what you need to know.
The dangers of inhaling smoke
Smoke is made up of gases and fine particles that are produced when organic materials like wood burn. It's the fine particles that pose the biggest health risk. They can penetrate deep into the lungs.
This particle pollution can cause a number of health problems—both minor and major. It can trigger burning eyes or a runny nose. Inhaling smoke can also make it difficult to breathe, and it can aggravate heart and lung diseases.
Related: 5 Ways to Protect Yourself from Dirty Summer Air
Who's at risk?
Smoke can affect anyone. But people who face the greatest threat include:
People with heart disease or a lung disease such as asthma or Chronic Obstructive Pulmonary Disease (COPD)
Older adults
People with diabetes
Pregnant women
Children and teenagers
If you or a family member falls into one or more of these categories, pay extra attention to fires in your area.
Related: Why You Should Care about Air Quality
How to protect your family
Simple precautions can make a big difference. If you live in an area that is affected by wildfires, keep these guidelines in mind:
Talk to your doctor before fire season begins if you or a family member has health problems that may be made worse by smoke. Discuss when you should leave an area and how much medicine to have on hand. Be sure to follow your doctor's advice about your respiratory management plan if you have asthma or another lung disease.
Check local air quality reports after a fire starts. Stay on top of the situation. Visit airnow.gov to check the air quality in your area.
Stay indoors as much as you can when the air is smoky. Plan to exercise inside.
If smoke becomes thick, people with heart or respiratory ailments should reduce physical exertion and outdoor activity.
Keep windows and doors in your home shut, and run the air conditioner with the fresh-air intake closed. This will help keep smoky air from getting inside. Also, when driving, close the windows and vents in your car and operate the air conditioning in the recirculate setting.
Don't rely on regular dust masks. The masks sold at hardware stores to keep sawdust at bay won't help with the fine particles in smoke. A more expensive dust mask, such as an N-95, will filter out damaging fine particles. But consult with your doctor before using one.
Evacuate if needed. If you're in the path of the fire or if it's too warm to stay inside with the windows closed, move to a safer area.
Select Health may link to other websites for your convenience. Select Health does not expressly or implicitly recommend or endorse the views, opinions, specific services, or products referenced at other websites linked to the Select Health site, unless explicitly stated.
The content presented here is for your information only. It is not a substitute for professional medical advice, and it should not be used to diagnose or treat a health problem or disease. Please consult your healthcare provider if you have any questions or concerns.
References: American Lung Association; Centers for Disease Control and Prevention; U.S. Environmental Protection Agency