Homemade Cilantro Ranch Dressing
Made with an immersion blender, this clean version of ranch dressing will be your new favorite when you need something to top a salad or pair with fresh veggies.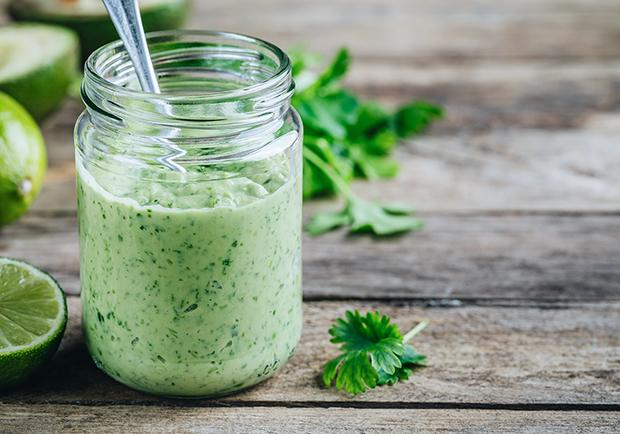 Prep time: 10 minutes
Yields 20 servings
Ingredients
1 egg
1 cup light olive oil
1 tbsp. lemon juice
2 tbsp. red wine vinegar
1 tsp. salt
1 tsp. pepper
¾ tsp. onion powder
¾ tsp. garlic powder
½ cup full-fat canned coconut milk, stirred
1 handful fresh cilantro
Instructions:
1. Place all ingredients except cilantro in a Mason jar and blend with an immersion blender until ingredients are mostly incorporated. Blend with the immersion blender at the bottom of the jar and work upwards until it starts to thicken.
2. Add fresh herbs and blend for approximately 10 to 15 seconds.
3. Store in the fridge for up to one week. Dressing may thicken in fridge.
Note: For a thicker dressing, you can use more of the coconut cream that settles at the top of the can and less of the liquid at the bottom. If it still isn't thick enough to your preference, you can add another egg and blend well.
Nutrition Facts (per 2 tablespoons): Calories: 135; Carbohydrates: 1 g; Fat: 14 g; Protein: 0.3 grams; Sodium: 10 mg
Related: Cucumber Tomato Avocado Salad
Select Health may link to other websites for your convenience. Select Health does not expressly or implicitly recommend or endorse the views, opinions, specific services, or products referenced at other websites linked to the Select Health site, unless explicitly stated.
The content presented here is for your information only. It is not a substitute for professional medical advice, and it should not be used to diagnose or treat a health problem or disease. Please consult your healthcare provider if you have any questions or concerns.
Reference: "Dump Ranch." Whole Sisters. Web. 12 June 2018. <https://www.whole-sisters.com/dump-ranch/>