Gearing Up for the Perfect Run
Before you head out for a run, be sure you've got the right gear. We've made a list of things you'll need for a safe and healthy run.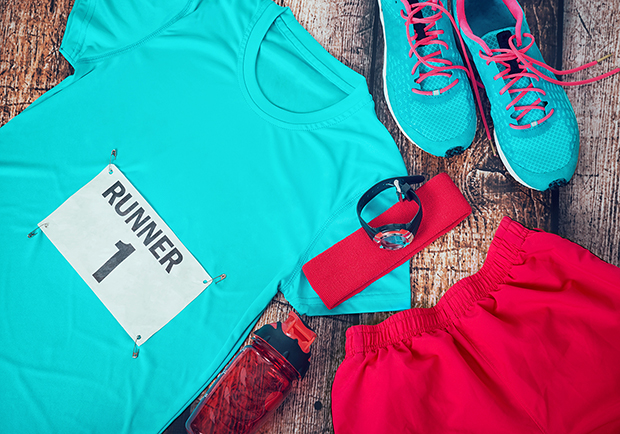 Whether you're new to running, or a seasoned marathoner, your running gear is an important part of your success. You don't need to spend a lot of money, but you should find the gear that works best for your type of run and the environment.
Clothing
Make sure that your clothing is made of wicking material and that it fits your body. Clothing that is too loose or too tight can create chaffing. Dress appropriately for heat and cold and consider the weather and conditions in your area.
There are several products on the market that create a barrier between clothing and your skin to prevent blisters and chafing. These are perfect to apply on thighs, armpits, the back of your knees, your stomach, or anywhere that may be irritated by clothing. Women should wear a good sports bra that fits well, wicks sweat, and provides ventilation.
Related: 7 Reasons to Run for Fun
Socks
Look for a brand with a blend of polyester, nylon, spandex, or wool. Running in all-cotton socks can create friction and result in blisters. It may sound obvious, but keep your socks clean! There are 250,000 sweat glands in your feet—that's a lot of sweat.
Hydration and fuel
If you're running more than 30 minutes, you should bring along hydration. If you're planning to exceed an hour of running time, you should add a carbohydrate drink to your mix.
Everyone's energy needs are different, but if you're running longer than an hour, you will need to refuel. Choose from gel, chewables, or a sports drink to keep you going.
Heart rate monitor
Measuring your heart rate helps you know how hard you're working and if you're overtraining. There are several options for monitors, including watches, headphones, and even smart clothing. Understanding your target heart rate may improve your running and help you reach your goals. Visit the American Heart Association for more information on target heart rates.
Related: 6 Steps to Race Prep
Properly fitting shoes
This may well be one of the most important and yet most intimidating parts of running. The running shoe market is brimming with options—you need to pick a shoe that considers all of these factors: heel, instep, length, width, flex, and feel. Don't buy your shoes for looks or because they are the cheapest option in the store. Be professionally fit at a running store and shop when you have some time to commit to making the right decision.
It's best to shop for shoes in the afternoon, so you can accommodate for swelling that typically occurs during the day. Walk around the store in the shoes to make sure they're comfortable. And once you've run in a pair of shoes for 300 miles, it's important to replace them (or if you're noticing an onset of pain when running). A new pair of shoes is less expensive than a visit to a doctor or therapist.
Hat or sunglasses
Don't forget to protect your eyes and face from the sun. Hats also keep sweat off your face.
Eric Passey, a physical therapist for Intermountain Alta View Hospital, says, "Running is a popular sport that burns calories and relieves stress. With a small investment in the right type of gear, you will be prepared to run anytime you're ready for a workout. "
Select Health may link to other websites for your convenience. Select Health does not expressly or implicitly recommend or endorse the views, opinions, specific services, or products referenced at other websites linked to the Select Health site, unless explicitly stated.
The content presented here is for your information only. It is not a substitute for professional medical advice, and it should not be used to diagnose or treat a health problem or disease. Please consult your healthcare provider if you have any questions or concerns.