Helping Kids Develop Healthy Habits
With childhood obesity on the rise, it's important to help your kids develop healthy habits at a young age—using these tips can help.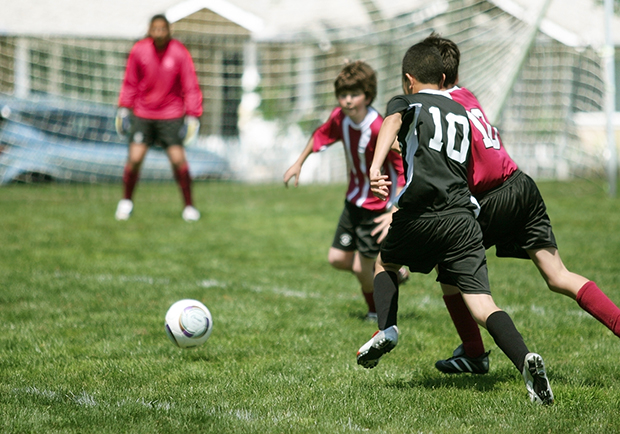 Since the 1970s, a deadly epidemic has tripled in children, making it a bigger health concern in children than drugs or smoking. The epidemic? Obesity. According to the American Heart Association, one in three children today is overweight or obese.
The problem with obesity in children is that it increases chances of high blood pressure, high cholesterol, type 2 diabetes, sleep apnea, and psychological problems such as low self-esteem. Some factors of obesity, such as genetics, can't be controlled. But for most children, a few lifestyle changes can go a long way in helping them maintain better health throughout their life. Start with these steps to make lifestyle changes more natural.
Keep a regular meal schedule
Keeping a scheduled eating time and two snack times helps limit endless food grazing. Having a set mealtime can better help a child identify hunger and when they are full.
Make playtime count
Children naturally want to play—use this to your advantage. Try incorporating active games into everyday play. For example, have a Nerf war instead of playing a board game. Learn a children's yoga video together, or have a dance party. Make exercise a game, and you won't have to force your child get the workout they need.
Cut down on screen time
One of the greatest suspects in increased childhood obesity is the large amount of screen time children get. While some screen time is okay, limit it to a certain amount, such as 30 minutes a day. The extra time they would have spent on screen time can be swapped out for more creative and active play.
Related: Start Your Kids on a Heart-healthy Path
Have healthy snacks available
The transition to healthy snacks can be a little difficult, but much more so if sugary, unhealthy ones are still around. Besides just buying healthy snack options, make them visible. Place them on shelves or in the fridge at eye level for your child, and have them prepared so they are easy to grab and go. Convenience almost always wins, so the key is to make them as visible and convenient as possible. Replace snacks such as crackers or fruit snacks with nuts, berries, carrots, celery, cucumbers, applesauce, or pre-sliced or peeled fruit.
Related: Help Your Child Deal with Bullying
Have a meatless Monday
If it's not already a habit, learn to prepare more meals that don't rely on meat. You can make this a fun event by having a once-a-week meatless Monday, or you can try to incorporate it more frequently. Making this swap can be healthy for you—and your wallet—as well.
Prioritize water
Juice and soda are delicious, but they pack in empty calories and sugar. Swapping these out for water is one of the simplest changes to cut down on excess calories that don't provide any nutrition.
Combine walking with daily tasks
America is a drive-centric country. While those in Europe and South America frequently walk to the grocery store, we are trained to hop in our cars and make the task as fast as possible. But you miss out on serious health benefits by eliminating the habit of walking. Evaluate what's possible to do by walking. Can you take your child to the grocery store and turn it into a walking adventure? It might take longer, but you're teaching a healthy habit: to slow down and make time for movement.
While many of these may not be the easiest change, they will each provide lasting health benefits for both you and your child.
SelectHealth may link to other websites for your convenience. SelectHealth does not expressly or implicitly recommend or endorse the views, opinions, specific services, or products referenced at other websites linked to the SelectHealth site, unless explicitly stated.
The content presented here is for your information only. It is not a substitute for professional medical advice, and it should not be used to diagnose or treat a health problem or disease. Please consult your healthcare provider if you have any questions or concerns.