Chocolate Banana Coconut Chia Pudding
Prepare this simple, tasty recipe for chia pudding, place it in the fridge before you go to bed, and you've got a nutritious breakfast waiting for you first thing in the morning.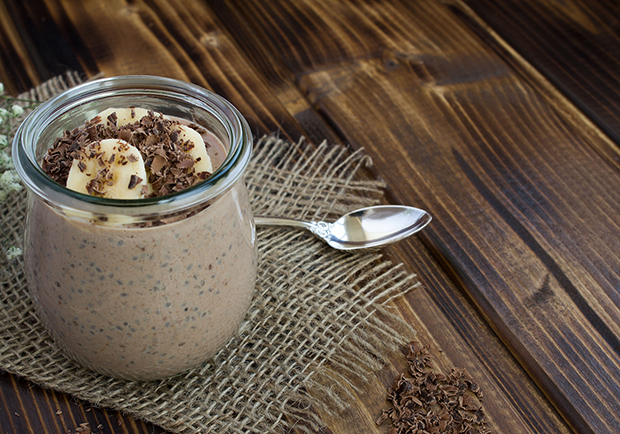 Prep time: 10 minutes (pudding must chill for at least 4 hours)
Serves 1
Ingredients
1/3 cup coconut milk
2/3 cup cold water
1 ripe banana, cut in half
1 tbsp. cocoa powder
Dash of cinnamon
3 tbsp. chia seeds
1. Combine coconut milk, water, half of the banana, cocoa powder, and cinnamon in a blender. Blend for 30 seconds or until smooth.
2. Place chia seeds in a mason jar. Pour chocolate banana mixture into the jar. Shake well to combine.
3. Refrigerate overnight, or for at least four hours. Top with banana slices, if desired.
Related: Overnight Oats Recipes you Should Try for Breakfast
Nutrition Facts (per serving): Calories: 321; Carbohydrates: 42 g; Fat: 15 g; Protein: 8 grams; Sodium: 24 mg; Sugar: 24 g
Select Health may link to other websites for your convenience. Select Health does not expressly or implicitly recommend or endorse the views, opinions, specific services, or products referenced at other websites linked to the Select Health site, unless explicitly stated.
The content presented here is for your information only. It is not a substitute for professional medical advice, and it should not be used to diagnose or treat a health problem or disease. Please consult your healthcare provider if you have any questions or concerns.
Reference: "Chocolate Banana Coconut Chia Pudding." Clean Eating Veggie Girl, 2015. Web. 19 April. 2018.