Workout Ideas to Get Ready for Summer
Now that it's springtime, you may have a renewed sense of motivation to work out. Here are some ways to take advantage of longer days and get your body ready for summer.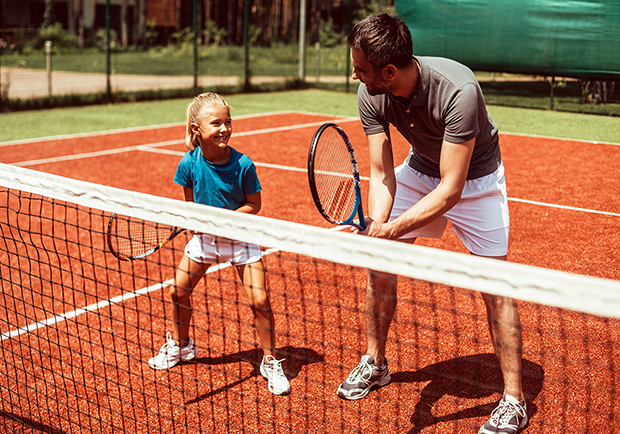 There's something about daylight saving time in the spring that breathes life into a wavering workout routine. So, if you've been re-motivated to get your body moving, try switching up your routine with these options:
When you want to get outside:
Rollerblading
Sure, this was a lot more popular in the 90s, but this retro exercise needs to make a comeback just like baggy sweaters and floral print. Rollerblading can burn more calories than running or bicycling.
Rock climbing
Rock climbing can be daunting because of the amount of equipment you need, but start at a gym to learn if this is something you could get into and then work toward moving outside. Rock climbing has great benefits because it combines cardio and strength into a single workout.
Related: Stop Making Excuses and Get Fit
Tennis
One of the great benefits of tennis is that it's a sport you can no matter your age. It's a great way to get in a cardio workout—and a great way to be social because you can include your buddies. Learn how to play here. Then grab a friend (or three) for a fun game of doubles.
Hiking
Hiking lowers your risk of heart disease, improves your blood pressure and blood sugar levels, boosts bone density, strengthens your core and leg muscles, and helps improve balance. And if that's not enough motivation, research links hiking to combating the symptoms of stress and anxiety.
Slacklining
Slacklining increases balance, core strength, concentration and mental focus, and specifically tones your lower body. It can train muscles required for balance that other workouts just can't touch. Get yourself familiar with the basics of slacklining, and you'll be on your way to an ultimate balance workout.
Yoga
Can there ever be too much of a plug for yoga? It has amazing benefits and can be done anywhere: outside, at home, at a community class. Increase your flexibility, strengthen and tone your muscles, maintain your metabolism, improve your cardio health, and improve your athletic performance by making this a weekly (or even daily) habit.
Related: Why I Love Yoga
Start a daily walk tradition
If running is not your thing, don't let that stop you from getting out and moving. Walking is the most popular form of exercise in the United States. And if you're not one for mindless wandering, set a timer, plug in some headphones, and listen to a great book while you walk until the timer goes off.
At home and indoors:
Try the 7-minute workout app for an intense circuit you can repeat as many (or as few) times as you need that day.
Check out free workout videos on YouTube for anything from yoga to aerobics.
Or create your own by perusing Pinterest for workout ideas. For example, doing this routine will help you burn 1,000 calories (that's a lot!).
Buy a cheap jump rope at the store and have a jump rope competition with your kids, spouse, or roommate. In a ten-minute session, you can burn more than 200 calories.
The sky's the limit with whatever exercise you choose. If you want help tracking how many calories you burn with each activity, try an app like My Fitness Pal to help determine what you are burning depending on your time, intensity, and weight.