Recipe – Shrimp In Yellow Curry Coconut Sauce
Chef Mary Shares Her Recipe for Shrimp in Yellow Curry Coconut Sauce with Brown Jasmine rice.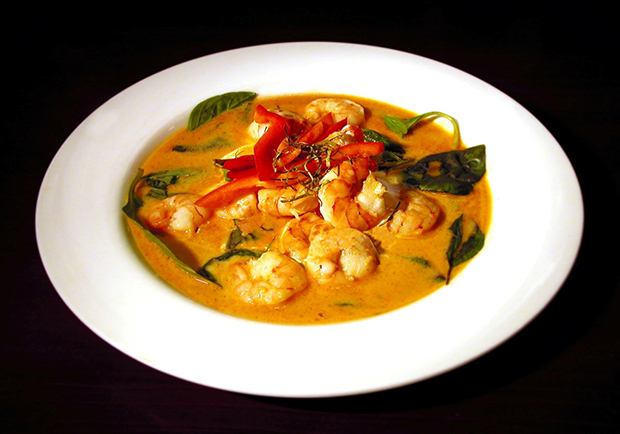 The key to getting this dish on the table in less than 30 minutes is to cook the rice ahead of time. Once the rice is done, you can prepare this dish in less than 30 minutes.
For an even quicker fix, use 90 second microwave organic brown rice individual serving bowls.
Shrimp in Yellow Curry Coconut Sauce with Brown Jasmine Rice
Prep. time: 30 minutes if rice is cooked ahead of time.
Serves 4
1¼ cups brown Jasmine rice*
non-aerosol coconut or olive oil non-stick cooking spray
1 medium red bell pepper, thinly sliced
4 cups Shitake* mushrooms, stems removed and sliced
2½ cups carton unsweetened coconut milk* (4 to 6g fat per 1 cup)
1 tbsp. low-sodium chicken soup base
1 to 3 tsp. Thai yellow curry paste*
½ tsp. ground turmeric
1½ tbsp. firmly packed brown sugar
1 lb. large fresh shrimp21-25 per lb., peeled and cleaned with veins removed and tails left on
2 tsp. cornstarch mixed with an equal amount of water
½ tsp. real coconut extract (optional) 1½ cups loosely packed fresh Thai basil leaves*
1 to 2 tbsp. fresh lime juice
1. Rinse 1¼ cups rice once with cool water and drain well. Add rice with 2½ cups water to rice cooker, close lid, and select rice setting. Cook until timer goes off, allowing to set a few minutes before opening cooker. Fluff rice with a fork and close lid to keep warm until ready to serve with sauce.
2. Spray a large non-stick or stick-resistant wok or frying pan with cooking spray and preheat over medium-high heat. Add peppers and mushrooms and stir-fry for 3 minutes or until peppers are tender-crisp.
3. Add coconut milk, chicken base, curry paste, turmeric, and brown sugar to pan, stirring until curry paste and sugar have dissolved and liquid is simmering.
4. Stirring, add shrimp and cook 2 minutes or until firm and no longer opaque. Constantly stirring, add cornstarch/water mixture to sauce. Once thickened, stir in extract and reduce heat to low. Stir in lime juice and basil. Remove from heat and adjusting seasonings, if necessary.
5. To serve, spoon 1 cup rice into each of four wide, shallow bowls and top with sauce.
Related: Recipe: Zoodles with Meat Sauce
Cook's Note: *Ingredients with an asterisk can be found at Oriental markets or in the specialty foods sections of larger grocery stores. *Carton coconut milk can be found in the dairy section of the grocery store.
Nutritional Information: serving with 1 cup rice 380 Calories: 5g Fat; 48g Carbohydrates: 55g; 3g Fiber; 24g Protein; 130mg Cholesterol; 680mg Sodium Select Health may link to other websites for your convenience.
Select Health does not expressly or implicitly recommend or endorse the views, opinions, specific services, or products referenced at other websites linked to the Select Health site, unless explicitly stated.
The content presented here is for your information only. It is not a substitute for professional medical advice, and it should not be used to diagnose or treat a health problem or disease. Please consult your healthcare provider if you have any questions or concerns.Reference: "Baked Sweet Potato Chips." A Spicy Perspective, 2016. Web. 18 April. 2018.