Avocado Chicken Salad
Make this flavorful chicken salad recipe for lunch or dinner that happens to incorporate one our favorite foods—the avocado.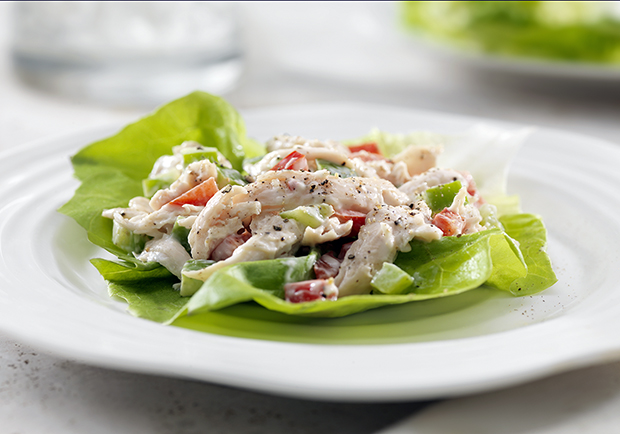 Prep time: 25 minutes
Serves 4
Related: Zoodles with Meat Sauce
Ingredients
2 ½ cups cooked chicken, poached
2 ripe avocados
1 tbsp. plus 1 tsp. fresh lime juice
½ red bell pepper, diced 3 tbsp. white onion, chopped
3 tbsp. cilantro, chopped
½ jalapeno, finely chopped
2 medium cloves garlic, minced
1 tsp. salt
½ tsp. black pepper
1. In a large bowl, mash the avocado with the lime juice.
2. Add the rest of the ingredients: chicken, bell pepper, onion, cilantro, jalapeno, and garlic. Mix well. Season with salt and pepper, to taste.
3. Serve immediately.
Chef's note: For a paleo or gluten-free meal, serve this chicken salad in lettuce cups rather than on bread.
Nutrition Facts (per serving): Calories: 213; Carbohydrates: 10; Fat: 11 grams; Protein: 23 grams; Sodium: 15 mg
Related: Carne Asada with Salsa Verde Fresca
Select Health may link to other websites for your convenience. Select Health does not expressly or implicitly recommend or endorse the views, opinions, specific services, or products referenced at other websites linked to the Select Health site, unless explicitly stated.
The content presented here is for your information only. It is not a substitute for professional medical advice, and it should not be used to diagnose or treat a health problem or disease. Please consult your healthcare provider if you have any questions or concerns.
Reference: "Venezuelan Avocado Chicken Salad: No Mayo." Panning the Globe, 2017. Web. 06 Feb. 2018.