Ways to Get Protein in Your Diet If You're a Vegetarian (or Eat Meat Sparingly)
Protein is essential for humans, but meat isn't the only food that contains protein. Learn about some other foods that are great sources of this vital dietary component.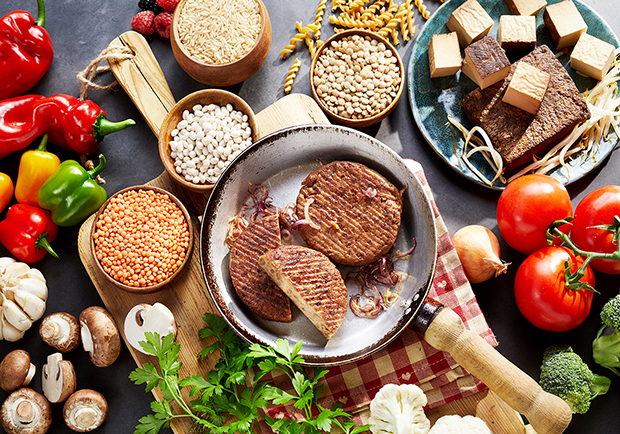 While being a vegetarian or vegan (or even someone who eats meat sparingly) still gives you plenty of food options, many of them aren't very high in protein, and that can lead to protein deficiency. To avoid the side effects of protein deficiency, incorporate these vegetarian-friendly yet protein-packed options:
Protein powder
You can use protein powder to make smoothies—it usually contains around 15 grams of protein per scoop (slightly less than fish).
Tempeh
Tempeh is made from soy beans and contains 16 grams of protein in just half a cup. It's less processed than tofu, but it can be used in much the same way.
Chickpea pasta
Did you even know that chickpea pasta is a thing? It is. And, at 14 grams of protein per serving, it's got even more protein than wheat pasta.
Rye berries
These aren't actually berries: they're seeds, and they're typically used to make pumpernickel bread, but they can be substituted for rice for 12.5 grams per every half cup.
Related: 7 Foods That Burn Belly Fat
Black rice
You may see this on menus as "Forbidden Rice," which sounds super mysterious. It's got more protein and fiber than brown rice and it's absolutely delicious.
Beans
We've extolled the virtue of these tiny gems before, but we're reminding you of their power. They contain 10 grams of protein for every ¾ cup, they're a good source of fiber, and they taste good.
Spirulina
Fair warning: spirulina doesn't taste good on its own. But if you blend it in a green smoothie, the taste disappears and you're still getting 8 grams of protein per tablespoon. That's an easy way to meet your recommended daily protein intake.
Pistachios
If you just ate spirulina and can't get the taste out of your mouth, eat some pistachios to erase the memory. Pistachios have 6.5 grams of protein per ¼ cup.
Green beans
In the world of vegetables, green beans are definitely among the best. They taste great, they're cheap, and they have 6 grams of protein for every half cup.
Hummus
Hummus is a yummy source of protein made from chickpeas and olive oil. It's a perfect dip and it's low in calories but has 6 grams of protein for every half cup serving.
Related: Squash Your Doubts about These Nutrient-dense Fall Veggies
And there are still dozens of other foods that contain high amounts of protein, so if you choose to avoid meat, you don't have an excuse for not meeting your recommended protein intake.
Select Health may link to other websites for your convenience. Select Health does not expressly or implicitly recommend or endorse the views, opinions, specific services, or products referenced at other websites linked to the Select Health site, unless explicitly stated.
The content presented here is for your information only. It is not a substitute for professional medical advice, and it should not be used to diagnose or treat a health problem or disease. Please consult your healthcare provider if you have any questions or concerns.