5 Ways to Make Those New Year's Resolutions Stick
You're likely to set goals in the new year to get in shape or make habits to become a better you. Here's a few tips to help you accomplish all the things you want to do this year.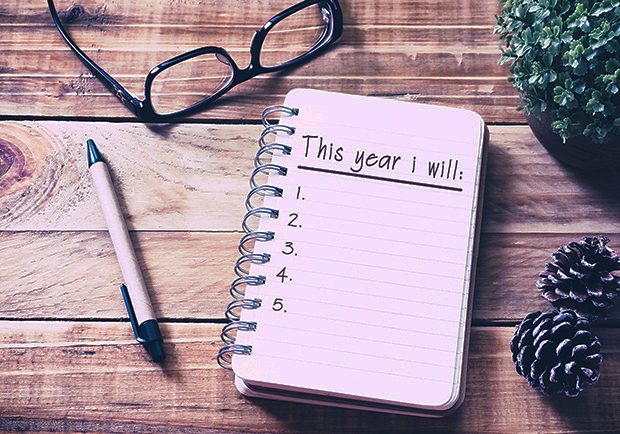 First you make 'em. Then you break 'em.
Does that pretty much sum up your past history with New Year's resolutions? You're jazzed in January to get in shape, stop smoking, eat better—to achieve your goal, whatever it is. But by February, your resolution is kaput.
Related: Tips for Becoming Healthier as a Family
As you've likely discovered, good intentions aren't enough to make resolutions stick. You've got to stack the odds in your favor. Here's how:
1. Be specific. Rather than a fuzzy resolution—for instance, "I'm finally going to get fit"—commit to a clearly defined one. Do you want to be able to finish a 5K? Do a dozen pushups? Walk the hilly streets in your neighborhood without getting winded?
2. Don't overreach. Resolving to go to the gym every morning before work is potentially setting yourself up for failure. Getting there two or three times a week is more realistic—and far likelier to become a habit.
3. Line up support. Pair up with a resolution buddy—somebody with the same or a similar goal. Change is easier if you don't attempt it solo. And spread the news about your resolution. The more friends and family you tell, the more accountable you'll feel.
4. Reward yourself. Did you make it through your first week without having soda? Then spend the money you would have spent on something special for yourself. Are you down 5 pounds? Why not celebrate with a manicure or tickets to a concert?
5. Bounce back. OK, so you skipped the gym a couple of times or binged on a bunch of snacks one weekend. Missteps are normal. And one key to successful behavior change is resiliency. Tomorrow really is another day—it's your chance to get back on track.
Related: Clever Ways to Trick Your Body into Feeling Full
Sources: American College of Sports Medicine; American Council on Exercise; American Psychological Association
SelectHealth may link to other websites for your convenience. SelectHealth does not expressly or implicitly recommend or endorse the views, opinions, specific services, or products referenced at other websites linked to the SelectHealth site, unless explicitly stated.
The content presented here is for your information only. It is not a substitute for professional medical advice, and it should not be used to diagnose or treat a health problem or disease. Please consult your healthcare provider if you have any questions or concerns.