Cheese-Stuffed Manicotti with Sausage and Mushroom Ragu
Chef Mary shares her healthy signature recipe for Cheese-Stuffed Manicotti with Sausage and Mushroom Ragu.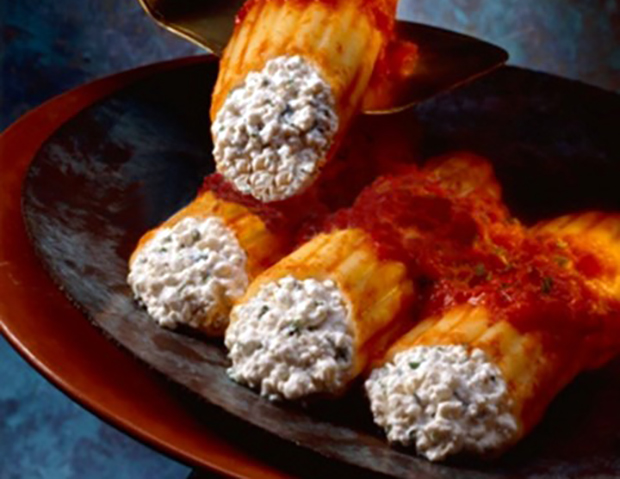 Yield:
8 servings of 2 stuffed shells and 1 cup sauce
1 recipe Sausage and Mushroom Ragu (recipe follows)
16 manicotti noodles, uncooked
1 16‑oz. container nonfat cottage cheese
7 oz. grated reduced fat mozzarella cheese (2 to 4g fat per 1 oz.) divided in 1½ and ¼ cups
2 oz. (½ cup) grated reduced fat Monterey Jack cheese (4 to 5g fat per 1 oz.)
2 oz. (½ cup) fresh grated Asiago or Parmesan cheese divided into ¼ cups
1 10‑oz. package chopped frozen spinach, thawed and drained thoroughly; or 4 cups fresh shredded spinach
2 egg whites
1 tbsp. fresh chopped parsley – optional
¼ tsp. fresh ground black pepper
¼ tsp. nutmeg (preferably freshly grated)
1. Bring large pot of water to boil. There should be enough room in pot for pasta to move freely through boiling water. Add pasta and cook for 6 to 7 minutes; stirring often to keep pasta from sticking. Drain and rinse pasta with cold water.
2, While pasta is cooking, combine all four cheeses with spinach, parsley, egg whites, salt, pepper and nutmeg. Leaving nozzle attach­ments off a pastry bag, fill bag with cheese mixture. Fill each shell with cheese mixture, taking care not to overfill. Cheese should not be coming out the ends of the shells.
3. Preheat oven to 350 F. Pour 3 cups of sauce into the bottom of a large rectangular baking dish. Place filled shells side by side in a single layer, leaving at least a 1/4 inch between each shell. Cover shells with remaining sauce; cover pan with foil and bake 45 to 55 minutes or until sauce is bubbling and shells are tender.
4. Remove from oven top with remaining ¼ cup Asiago and ¼ cup mozzarella cheeses and allow to cool 10 minutes before serving.
Nutrition Information: 2 shells and 1 cup sauce 480 Calories; 12g Fat; 51g Carbohydrate; 6g Fiber; 37g Protein; 46mg Cholesterol; 1160mg Sodium
Traditional Recipe: 2 shells and 1 cup sauce 830 Calories; 50g Fat; 45g Protein; 145mg Cholesterol; 1700mg sodium
Italian Sausage and Mushroom Ragu
Yield:
8 cups or 16 ½ cup servings
99% residue-free olive oil cooking spray
¾ lb. sweet or spicy 95 to 98% fat-free Italian turkey sausage, cooked and drained of fat
2 large cloves fresh garlic, pressed or minced
1 medium yellow onion, chopped
1 cup dry white or a light-bodied red wine (You can substitute water for wine.)
2 6‑oz. cans tomato paste 1 28‑oz. can ready-cut Roma or regular tomatoes or
2 lb. fresh Roma or regular tomatoes, peeled and seeded
2 cups fresh sliced white or baby portabella mushrooms
1 medium red bell pepper, chopped 1 tbsp. fresh oregano or ½ tablespoon dry
1 tbsp. fresh chopped thyme or ½ tablespoon dry
1 large bay leaf 1 to 2 tbsp. sugar ½ tsp. sea salt
1 tsp. granulated garlic powder
1/8 tsp. chile powder or cayenne pepper fresh ground black pepper to taste
¼ cup fresh basil, chopped
1 tbsp. extra virgin olive oil
1. Spray a 4‑quart stock pot with olive oil cooking spray and preheat on medium. Sauté garlic 2 to 3 minutes or until lightly golden. Add onions and sauté until translucent. Add tomatoes and all remaining ingredients, except sausage, fresh basil, and olive oil.
2. While sauce is simmering, cook sausage. Drain fat off sausage if necessary on paper towels and set aside.
3. Simmer sauce for 1 to 4 hours. About an hour before sauce is done, add sausage and continue to simmer until heated through.
4. Add fresh basil and olive oil to sauce a 1 to 2 minutes before end of cooking time and remove from heat. If sauce become too thick, add a little water or wine.
Nutritional Information: ½ cup servings 85 Calories; 3g Fat; 8g Carbohydrate; 3g Fiber; 4g Protein; 10mg Cholesterol; 250mg Sodium.
Traditional Recipe: ½ cup sauce 195 Calories; 14g Fat; 6g Protein; 22mg Cholesterol;
406mg Sodium
Related: Pasta Puttanesca