Five Tips for Planning a Safe Hike
Now that the weather is getting warmer, you might be tempted to take a hike. Before you start exploring, keep these five tips in mind.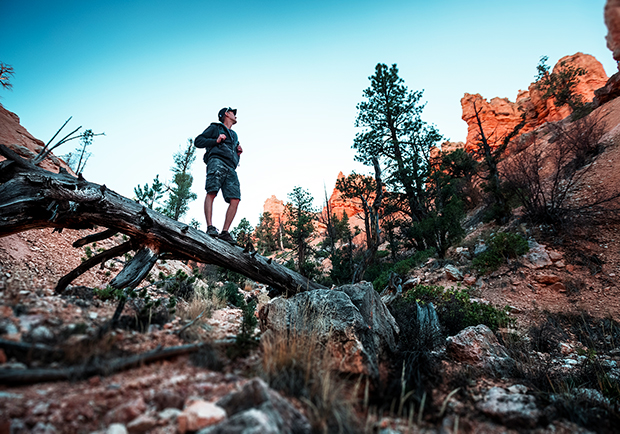 Spring is a perfect time to recommit to healthy habits and to discovering more about where you live. But before you set off to explore the great outdoors, keep these five safety tips in mind:
1. Have a plan
And don't keep it to yourself. Let someone know where you're going and when you expect to return. If you're hiking with a group, decide where you're going to meet if you get separated. This could be back at the trailhead, at the car, or at a big rock.
Related: 3 Easy Hikes to Help You Get Moving This Summer
2. Dress for success
Wear clothing and footwear appropriate for the terrain and season. If ticks are running rampant, wear a long-sleeved shirt, long pants and shoes—not sandals. Use insect repellent that includes the ingredient DEET
Bringing the kids along? Be sure to dress them in bright colors so they can be easily seen.
3. Educate yourself
If poison oak, sumac or ivy grow where you'll be hiking, learn how to recognize them so you can avoid them—and the nasty, itchy rashes they can give you.
4. Pack appropriately
Bring water, food, a cellphone, a map or compass, a whistle, a headlamp, and a flashlight.
5. Choose wisely
Hike on an established trail, and stay out of areas declared off limits to hikers.
Related: Don't Touch That Snake
Download the Intermountain Health Hub app to find hikes near you based on location, hike distance, level of effort, and more.
Where are your favorite places to hike? Tell us by leaving a comment. Be sure to check out other healthy living articles.
Select Health may link to other websites for your convenience. Select Health does not expressly or implicitly recommend or endorse the views, opinions, specific services, or products referenced at other websites linked to the Select Health site, unless explicitly stated.
The content presented here is for your information only. It is not a substitute for professional medical advice, and it should not be used to diagnose or treat a health problem or disease. Please consult your healthcare provider if you have any questions or concerns.
Sources: American College of Emergency Physicians; National Park Service; Recreation.gov
Updated, May 16th 2017