Train Your Way to 26.2
Think you can't run a marathon? Wrong. You just need two things: desire and the right training. We can help with the latter.
If it seems like everyone you know is preparing to run a marathon, you might not be far from the truth: marathons are thrilling, challenging, and are often for a good cause. But marathon runners aren't born—they're created. Here are six steps to becoming the kind of runner you've always wanted to be.
Related: 15 Inspirational Quotes From Professional Athletes
Step 1. Research
Every marathon has its own set of rules. Start your research well in advance of the marathon date (a year wouldn't be too far in advance, but six months is probably fine, too). You'll likely have to pay to register on the marathon's website.
Step 2. Choose your training
If you run 13 miles every Saturday, you'll need to train much differently than someone who currently only jogs around the block. To determine what kind of training you'll need to successfully complete your marathon, see how far you can currently run on a treadmill without resorting to walking. Your fitness level will determine the type of practice you'll need. Oh, and a word on your fitness: there's no shame in wherever you begin. The fact that you're willing to begin is impressive in itself.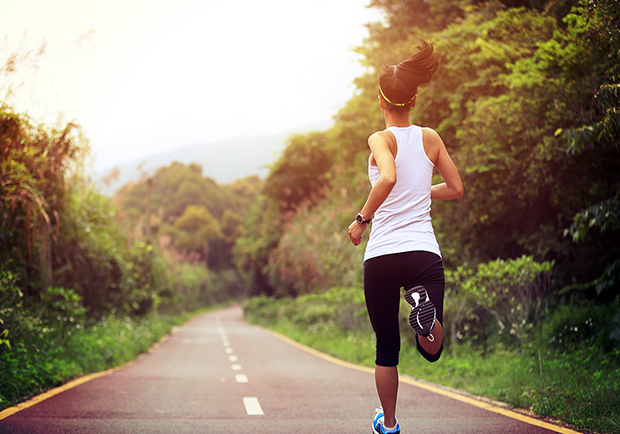 Step 3. Start training
The best idea is to train with an app or with a personal trainer. There are so many apps now, it's impossible not to find one that resonates with your particular goals. From RockMyRun to Runtastic to Zombies, Run!, there's an app to help get you ready for the race. But remember: a marathon isn't just running: you'll need to increase your strength and flexibility, so include yoga and weight training.
Step 4. Fuel
It's not enough to go paleo the morning of your marathon and expect to feel unstoppable. Fueling your body the right way starts months before the day of the marathon. Eliminate sugar (we heard you scream), eat more fruits and vegetables, and stop the dependency on caffeine. You'll need a marathon day fueling plan and a personal training plan. Hey, you finally have an excuse to eat pasta!
Step 5. Taper
The key to completing a marathon is to train and then taper so your body has a chance to recover. That means the week before the marathon, you'll have to essentially cut your running in half. Follow these guidelines for how to taper properly.
Step 6. Race day
Be sure to get plenty of rest the night before, use the same shoes you've been training in, and wear comfortable, weather-appropriate clothes. Fuel up the morning of the race and stretch properly. It's smart to use anti-chafing and anti-blister balm. Check the marathon's website, as it should have a list of suggestions for the race such as where to park and what to bring. Then, get pumped! You're about to do something incredible.
These six steps will help you finish your first marathon. But be careful: marathons are addictive!
Related: Seven Reasons To Run For Fun
Be sure to check out other Healthy Living articles.
Here is a list of Utah Marathons:
Salt Lake City Marathon Salt Lake City, UT April 21st

Huff to Bluff Marathon Blanding, UT May 19th

Ogden Marathon Ogden, UT May, 19th
Timp Trail Marathon Provo, UT May 19th

Utah Valley Marathon Provo, UT June 9th

Bear Lake Endurance Utah Laketown, UT June 16th

Morgan Valley Marathon Morgan, UT June 30th

Deseret News Run Salt Lake City, UT July 24th
Mid Mountain Marathon Park City, UT August 18th

Skyline Mountain Marathon Liberty, UT August 19th

Mt. Nebo Marathon Payson, UT August 25th
East Canyon Marathon Morgan, UT August 26th
REVEL Big Cottonwood Salt Lake City, UT September 8th
High Uintas Marathon Kamas, UT September 9th
Little Grand Canyon Marathon Price, UT September 9th
Huntsville Utah Marathon Huntsville, UT September 15th

Top of Utah Marathon Logan, UT September 15th
Jordan River Marathon West Valley City, UT September 30th
St. George Marathon St. George, UT October 6th
Layton Marathon Layton, UT October 14th
Escalante Canyons Marathon Escalante, UT October 14th
SoJo Marathon South Jordan, UT October 20th
Moab Trail Marathon Moab, UT November 3rd


SelectHealth may link to other websites for your convenience. SelectHealth does not expressly or implicitly recommend or endorse the views, opinions, specific services, or products referenced at other websites linked to the SelectHealth site, unless explicitly stated.
The content presented here is for your information only. It is not a substitute for professional medical advice, and it should not be used to diagnose or treat a health problem or disease. Please consult your healthcare provider if you have any questions or concerns