Gingerbread Cookies
Make these gingerbread cookies a new healthier holiday tradition!

Yield:
24 4- to 5-inch cookies
Ingredients
99% residue-free cooking or baking spray or parchment paper for baking sheets
¼ cup butter
2/3 cup firmly packed brown sugar
½ cup molasses
1 egg plus 1 egg white
2 ½ cups unbleached flour
1 tbsp. malted milk powder
2 tsps. ground ginger
1 tsp. baking soda
1 tsp. ground cinnamon
½ tsp. fresh grated nutmeg
½ tsp. ground cloves
pinch salt (optional)
2 cups White Icing (see recipe that follows)
4 to 5-inch cookie cutters
food coloring (optional)
decorating candies, colored sugars, etc. (optional)
Instructions
1. In a large bowl cream butter and sugar together and then beat until light. Add molasses, egg, and egg white, beating to blend all ingredients together.
2. In a separate bowl, stir flour together with malted milk powder, ginger, baking soda, cinnamon, nutmeg, cloves, and salt. Gradually add flour mixture to butter mixture, beating until just blended. Form dough into a ball and wrap in plastic wrap. Refrigerate at least 4 hours to overnight. The longer the dough is refrigerated, the easier it is to handle.
3. Prepare baking sheets by spraying lightly with cooking or baking spray or lining with parchment paper and set aside. Preheat oven to 325 F. Working with a third of the dough at a time, roll out onto a lightly floured board or pastry cloth to a thickness of about ¼‑inch.
Cut out cookies with floured cookie cutters and transfer to prepared baking sheets.
4. Bake cookies until lightly browned around edges and barely firm when touched (10 to 12 minutes). After removing from oven, allow cookies to cool a few minutes before transferring to wire racks. When completely cooled, decorate with White Icing piped from a pastry bag or paper cone.
Watch Chef Mary actually make the cookies here.
Nutritional Information: Cookie with icing 160 Calories; 2g Fat; 34g Carbohydrate; 2g Protein; 14 milligrams Cholesterol; 92mg Sodium.
High-calorie Version: Cookie with icing 200 Calories; 6g Fat
WHITE ICING
Yield:
3 cups or 48 1 tbsp. servings
1 16-ounce package confectioner's sugar
3 tbsp. meringue powder*
1/3 cup warm water
Beat sugar with meringue powder and water until thick and white, about 7 minutes.


Icing may be tinted with food coloring at this point. Keep icing covered with plastic wrap to prevent drying out.


If necessary, use a little warm water to thin frosting to the right consistency.
Nutritional Information: 1 tbsp. 40 Calories; 0 Fat; 10g Carbohydrate; 0g Dietary Fiber; trace Protein; 0mg Cholesterol; 4mg Sodium
Note:
Icing can be stored for up to 1 week. Lay a piece of plastic wrap directly on surface of icing and refrigerate.
*Paste or gel food coloring, decorating sugars, candy, decorating frosting tubes are available at grocery and specialty stores wherever baking and cake decorating supplies are sold.
*Meringue powder is available at specialty stores wherever baking and cake decorating supplies are sold.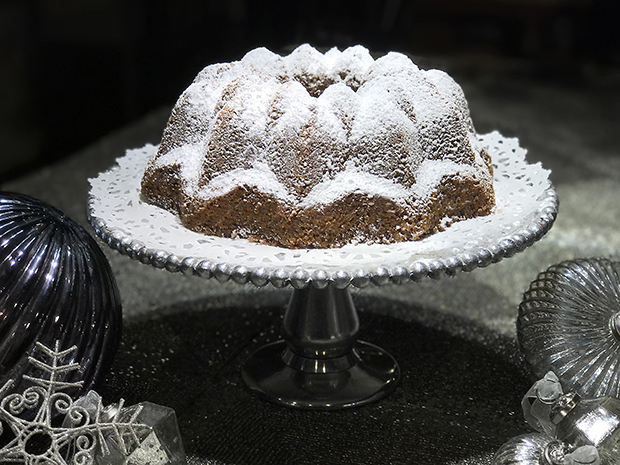 Light Gingerbread Spice Bundt Cake
This holiday season, try this delicious, moist gingerbread spice Bundt cake topped with light or fat-free whipped cream.
Yield:
16 servings.
99% less-residue cooking spray or baking spray with flour
1 yellow cake mix
1 3.4-oz. package of Jello® instant vanilla pudding
1½ tsps. ground ginger
1 tsp. cinnamon
¼ tsp. ground nutmeg
¼ tsp cloves
1/8 tsp. cardamom (optional)
3 eggs plus 2 egg whites
2 tbsp. coconut oil
2/3 cup strong brewed coffee, warm or cold
½ cup cups low-fat buttermilk
1/3 cup light or dark molasses
¼ cup powdered sugar for dusting
Lightly spray a 10-inch Bundt cake pan or 13- by 9-inch baking pan a with 99% less-residue
nonstick baking spray with flour or spray lightly with cooking spray and dust with flour.
Note:
You can use a 99% less-residue, nonstick baking or cooking spray on all baking pans. This product will not damage nonstick surfaces.
1. Preheat oven to 325 F. Pour cake mix into a large mixing bowl together with dry pudding mix, ginger, cinnamon, nutmeg, cloves, and cardamom. Stir all ingredients together until combined.

2. In a separate bowl, whisk together eggs, egg whites, oil, coffee, buttermilk, and molasses until well combined.

3. Add liquid ingredients to the cake mix and blend together using an electric mixer on medium speed for 2 minutes. Do not over mix.

4. Pour batter into pan and smooth out top. Bake for 38-40 minutes or until you can insert a toothpick into cake and it comes out clean. Remove cake from oven and cool in the pan for 15 minutes.

5. Carefully invert the pan onto a serving plate and remove. Allow cake to cool completely, 1 to 2 hours.
6. Once cake has cooled completely, dust top and sides with powdered sugar. Before serving, dust cake again lightly with powdered sugar, if necessary.
Nutritional Information:
1 piece 185 Calories; 3.5g Fat; 36g Carbohydrate; 3g Protein; 35mg Cholesterol; 322mg Sodium
High-calorie Version:
235 Calories; 10g Fat; 56g Carbohydrate; 4g Protein; 36mg Cholesterol; 335mg Sodium.