Thanksgiving Recipes
Chef Mary shares her recipes for a perfect holiday meal.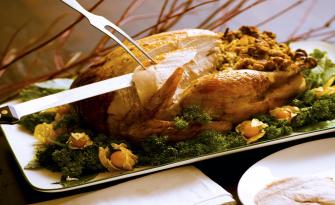 Perfect Roast Turkey
Chef Mary has found that best way to achieve a moist and tender turkey is to roast it unstuffed in an oven cooking bag.
Stuffing acts like a sponge when baked inside a bird, sucking the juices out of the meat and adding extra fat, cholesterol, and calories to the stuffing.
Purchase a fresh (not frozen) natural or organic turkey that has been raised on natural or organic feed without hormones or steroids. These turkeys will also not have been injected with extra fats, sodium, or unhealthy chemical tenderizers.
1 fresh, natural or organic turkey (12 to 24 lb.)
1 turkey-sized oven cooking bag
1 tbsp. garlic powder
1 tbsp. rubbed sage
1 tsp. thyme
1 to 3 tsp. salt
1 to 2 tsp. fresh ground black pepper
1 large onion
2 parsnips
2 carrots
2 stocks celery
3 to 6 cloves fresh garlic, cut into slivers
3 to 4 sprigs of sage and thyme, fresh or dried
1. Cut vegetables into large chunks. Add herb sprigs and garlic to vegetables and set aside. Mix seasonings together in a small bowl and set aside.
2. Remove turkey giblets and neck. Wash turkey inside and out with cool water and pat dry with paper towels. Rub turkey inside and out with seasoning mixture and stuff with ¾ of the cut vegetable mixture.
3. Preheat oven to 350 F. Following package instructions, prepare baking bag. Place turkey in bag and set on rack inside a large roasting pan. Place remaining vegetables inside of bag surrounding turkey. Insert meat thermometer into thickest part of leg, between thigh and breast. Close bag with provided tie and cut six ½-inch slits in top of bag. Place roasting pan on middle rack of oven.
4. Following baking bag instructions, roast turkey for recommended time or until the meat thermometer reads 175 to 180 F. Remove the turkey from oven. Make two to three small slits in bottom of bag to allow drippings to drain into pan.
5. After drippings have drained, remove the rack and turkey from pan and set aside on a baking sheet to rest 25 to 40 minutes before carving. (This is an ideal time to prepare gravy. See Degreasing Roasting Pan Drippings and the recipe for Turkey Gravy posted on the SelectHealth Healthy Cooking Blog.)
Cook's Note: If you are not using the recipe for Grandma's Old- fashion Sage Stuffing, prepare your stuffing, leaving out ¼ to ½ of the liquid called for in the recipe. You can add moisture back to the stuffing after it bakes using the degreased drippings from your turkey. This will make the stuffing taste like it was baked inside of the turkey!
Nutritional Information: 4-oz. serving of white meat – 170 Calories; 3.7g Total Fat; 34g Protein; 0 Carbohydrates; 0 Fiber; 78 mg Cholesterol; 73mg Sodium.


Nutritional Information: 4-oz. serving of dark meat – 212 Calories; 8g Total Fat; 32g Protein; 0 Carbohydrates; 0 Fiber; 96mg Cholesterol; 90mg Sodium.
Degreased Turkey Roasting Pan Drippings
After you've roasted your turkey [link to Prefect Roast Turkey], let it rest up to 45 minutes so the juices have time to reabsorb. If you carve it right after you remove it from the oven, the juices will pool out of the meat and your turkey will be dry. Keep it covered and warm while it rests.
1. Remove the roasted turkey from the pan and set aside to rest before carving. Roast turkey should be allowed to rest up to 45 minutes, giving you time to make gravy.
Alternatively, you can remove the drippings from the roasting pan near the end of cooking time. Either use a bulb baster (looks like an oversized eye dropper) to suck drippings from pan or pour the drippings off into a separate. (It's a good idea to have someone help you by holding the turkey in the pan while you pour out the juices.)
2. Pour the drippings from the pan into a separate container to degrease. Drippings from a roasted turkey should yield 2 to 3 cups liquid depending on size.
3. The easiest way to degrease drippings and other fatty liquids is to use a fat separator. A fat separator is a large measuring cup with a spout at the bottom. The spout allows you to pour out the juices, leaving the fat in the bottom of the cup.
4. If you don't have a fat separator, cool the drippings to room temperature and place in the refrigerator until the fat hardens and you can remove it from the surface. You can speed up this process by adding ice cubes to the drippings and placing them in the freezer. After a few minutes, the fat will harden and stick to the
ice cubes.
If you don't have a fat separator, consider purchasing one. You can find fat separators at any store that carries cooking supplies.
Related: 4 Healthy Thanksgiving Recipes

Turkey Gravy
The key to great turkey gravy is using degreased drippings and turkey stock made from the turkey neck and giblets. Ready-made stock or broth made from chicken or turkey soup base will also work.
Yield: 3 cups
3 cups of the following: 1 to 3 cups degreased turkey drippings and/or 1 to 3 cups turkey stock, or broth or a combination of both.
½ cup flour
2 tsp. chicken or turkey soup base or ½ teaspoon salt
1/8 teaspoon fresh ground black or white pepper
1.Pour 1 ½ cups cool or warm stock, broth, or degreased drippings into a 4-quart saucepan. Adding 1/3 of the flour at a time, rapidly whisk into liquid until blended. Whisk remaining 1 ½ cups liquid into slurry.
2.Stirring frequently, bring mixture to gentle simmer over medium heat. As gravy thickens, continue stirring an additional 2 to 3 minutes. Reduce heat to low and stir in seasonings Continue to cook gravy, whisking occasionally for an additional 1 to 3 minutes.
3.Adjust seasonings, remove from heat, and serve or cover and leave on warm until ready to serve.
4.If gravy is being made in advance, cover surface with plastic wrap or wax paper to prevent skin from forming. Cool to room temperature and refrigerate up to 2 days.
Cook's Note: If necessary, gravy can be thinned with a little water or stock until desired consistency has been reached. Nutritional Information: 12 ¼ cup servings 23 Calories - 0.2g Total Fat; 0 Saturated Fat; 0.8g Protein; 4.5g Carbohydrate; 0 Dietary Fiber; 1mg Cholesterol; 288mg Sodium.

Sweet Potato Apple Bake
Here's a wonderful dish for the holidays that bakes sweet potatoes or yams with crisp apples until both are tender, but still firm.
Baking the sweet potatoes or yams ensures that they keep all of their nutrients and rich flavor, while the apples, juice, and spices add sweetness and texture.
2 ½ lb. sweet potatoes or golden yams (3 medium)
2 medium apples peeled and sliced (use firm sweet/tart apples)
1 cup frozen apple juice concentrate, thawed
1/3 cup dark brown sugar
1 tsp. salt
1 tsp. ground cinnamon
1/8 tsp. ground ginger
1/8 tsp. ground nutmeg


1. Preheat oven to 375 F. Spray a 9 x 13-inch baking dish with cooking spray and set aside.
2. Peel sweet potatoes or yams, cut into ½-inch slices and place in baking dish.
3. Peel and slice apples, ¼ inch thick.
4. In a separate container, mix apple juice with brown sugar, spices and salt. Pour half of juice mixture over sweet potatoes, cover with foil, and bake for 45 minutes or until almost tender.
5. Add sliced apple to remaining juice mixture and gently combine.
6. Remove sweet potatoes from oven and uncover. Pour remaining juice and apple mixture over sweet potatoes and gently mix together. Re-cover dish and return to oven. Bake 30 minutes or until sweet potatoes and apples are tender. Remove from oven and serve or set aside covered until ready to serve.
Nutritional Information: 8 to 12 servings at 113 Calories; trace Total Fat; 1g Protein; 27g Total Carbohydrate; 3grams Fiber; 0 cholesterol; 48mg Sodium
Buttermilk Mashed Potatoes
This recipe proves that you don't have to add a stick of butter or a half cup of mayonnaise to mashed potatoes for them to be creamy and delicious.
The buttermilk in this recipe makes these electric mixer-whipped mashed potatoes light and creamy. If you don't like buttermilk, skim milk and/or chicken stock also work well in this recipe.
1 ¼ lb. peeled red potatoes
½ cup low fat buttermilk
¼ to ½ tsp. garlic powder
½ tsp. salt or to taste
fresh ground black or white pepper to taste
1. Place potatoes in a medium saucepan, adding enough water to cover. Bring to boil over high heat. Reduce heat to medium low and simmer potatoes until tender when pierced with fork, about 45 minutes. Drain potatoes, reserving ¼ cup of the liquid.
2. Place potatoes in a large bowl and mash with a fork, potato masher, or mixer until smooth. Using a wooden spoon or mixer, beat buttermilk, garlic powder, salt, and pepper into potatoes until thoroughly combined. For creamier potatoes, add small amounts of reserved potato cooking liquid or chicken broth until the right consistency is reached. Serve potatoes hot.
Nutritional Information: 4 servings at 130 Calories; 0.3g Total Fat; 0 Saturated Fat; 4g Protein; 27g carbohydrate; 2.3g Dietary Fiber; 0 cholesterol; 238mg sodium.
Grandma's Old-fashioned Sage Stuffing
This stuffing is baked rather than cooked inside the turkey. Degrease the extra drippings and use them to make gravy to give this stuffing that baked-in-the-bird taste!
Yield: 16 cups. This recipe can be doubled.
1 ½ lb. sourdough, French or wheat bread, or a combination made without added fats; or 1 package (16-oz. ) unseasoned bread cubes (10 cups)
1 lb. reduced-fat (7% fat or leaner) country style sausage (optional)
1 cup chopped onion
3 celery stocks including leaves, chopped
2 firm golden delicious or Granny Smith apples, chopped
1 cup mushrooms, sliced (optional)
½ cup raisins
2 cloves fresh garlic, pressed or minced
1 tbsp. crumbled dry sage
1 tsp. poultry seasoning
½ tsp. thyme
1 tsp. salt
1 tsp. baking powder
fresh ground pepper to taste
½ cup turkey or chicken stock or broth plus ½ cup or more degreased turkey drippings, stock, or broth
2 egg whites
1. Toast bread and cut into small cubes or position knife in food processor bowl, rip toasted bread into smaller pieces, place in processor and process until all bread is coarsely crumbled.


2. Brown sausage on medium heat in a non-stick skillet, crumbling meat into smaller pieces as it cooks. Drain any grease on paper towels, if necessary,
and set aside.
3. Add all seasonings to bread, beginning with baking powder, mixing together well.

4. Beat egg whites together with 1 cup stock or broth. Stir in fresh garlic and set aside.

5. Mix sausage through raisins with bread. Add egg white mixture to stuffing ¼ cup at a time, mixing ingredients together well. If the stuffing seems dry—don't worry— the fruits and vegetables in the stuffing will add moisture to the bread as it bakes.
6. Place stuffing in a large Dutch oven or covered casserole dish and bake at 325º F for 1 hour or until raw ingredients are cooked through. Remove stuffing from oven and mix ½ to 1 cup degreased turkey drippings or broth into stuffing until desired moisture is achieved.
Nutritional Information: 1-cup serving at 155 Calories; 3g Fat (17.2% calories from fat); 10g Protein; 22g Carbohydrate; 2g Dietary Fiber; 20mg Cholesterol; 565mg Sodium.
Exchanges: 1 Grain (Starch); 0 Lean Meat; 1/2 Vegetable; 1/2 Fruit; 0 Fat; 0 Other Carbohydrates.
Nutritional Information without sausage: 1-cup serving at 128 Calories; 1g Fat (7.6% calories from fat); 5g Protein; 25g Carbohydrate; 2g Dietary Fiber; 0mg Cholesterol; 437mg Sodium.
Exchanges: 1 Grain (Starch); 0 Lean Meat; 1/2 Vegetable; 1/2 Fruit; 0 Fat; 0 Other Carbohydrates.
Traditional Recipe Nutritional Information: 1-cup serving at 374 Calories; 24g Fat (57.8% calories from fat); 10g Protein; 30g Carbohydrate; 2g Dietary Fiber; 46mg Cholesterol; 840mg Sodium.
Cranraspberry Sauce
Here is an easy recipe for cranberry sauce with a raspberry and tangerine twist. Make extra, you will need it!1 cup water
¾ cup raw or regular sugar
1 12‑oz. package fresh cranberries
1 16‑oz. can jellied cranberries
1 12‑oz. package frozen or 1 pint fresh raspberries
1 tbsp. grated tangerine rind
1. In a 4‑quart saucepan, bring water and sugar to boil. Add fresh cranberries and cook according to package directions.
2. Reduce heat to low, add jellied cranberries and tangerine rind. Continue to simmer, stirring often until jellied cranberries have dissolved.
3. Remove from heat and stir raspberries gently into sauce. Allow sauce to cool 15 to 20 minutes before serving or cover and chill.
Note: Sauce will last up to six weeks covered in the refrigerator or six to eight months frozen. Use good reusable plastic containers that seal tightly.
Nutrition Information: 24 ¼‑cup (2‑oz.) servings at 80 Calories; 0.2g Protein; 27g Carbohydrate; 2.6g Dietary Fiber; 0 Fat; 0 cholesterol; 7mg Sodium.
Check out other healthy recipes here
SelectHealth may link to other websites for your convenience. SelectHealth does not expressly or implicitly recommend or endorse the views, opinions, specific services, or products referenced at other websites linked to the SelectHealth site, unless explicitly stated.
The content presented here is for your information only. It is not a substitute for professional medical advice, and it should not be used to diagnose or treat a health problem or disease. Please consult your healthcare provider if you have any questions or concerns.