Light and Creamy Buttermilk Mashed Potatoes
These mashed potatoes are light and delicious and easy to make.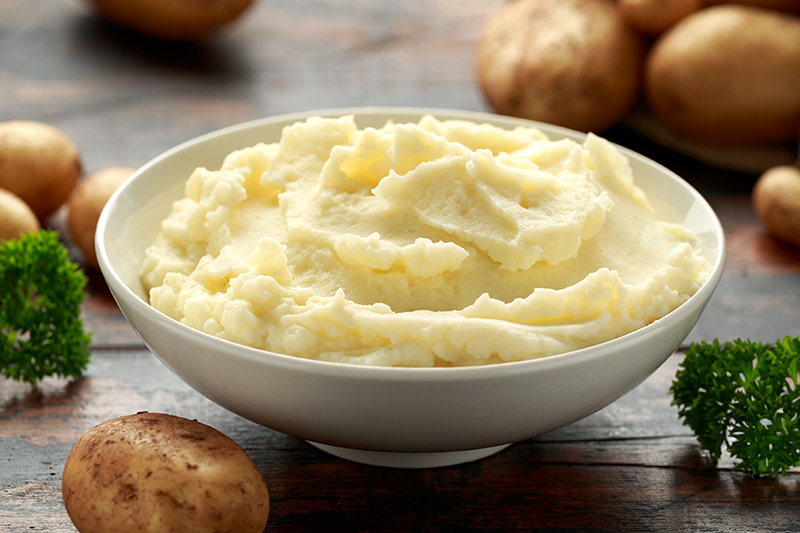 The buttermilk in this recipe makes these electric mixer-whipped mashed potatoes light and creamy. If you don't like buttermilk, skim milk and/or chicken stock also work well in this recipe.
Instructions
1 ¼ lb. peeled red potatoes
½ cup low fat buttermilk
¼ to ½ tsp. garlic powder
½ tsp. salt or to taste
fresh ground black or white pepper to taste
Directions
1. Place potatoes in a medium saucepan, adding enough water to cover. Bring to boil over high heat. Reduce heat to medium low and simmer potatoes until tender when pierced with fork, about 45 minutes. Drain potatoes, reserving ¼ cup of the liquid.
2. Place potatoes in a large bowl and mash with a fork, potato masher, or mixer until smooth. Using a wooden spoon or mixer, beat buttermilk, garlic powder, salt, and pepper into potatoes until thoroughly combined. For creamier potatoes, add small amounts of reserved potato cooking liquid or chicken broth until the right consistency is reached. Serve potatoes hot.
Related: Perfect Roast Turkey
Nutritional Information: 4 servings at 130 Calories; 0.3g Total Fat; 0 Saturated Fat; 4g Protein; 27g carbohydrate; 2.3g Dietary Fiber; 0 cholesterol; 238mg sodium.