Gorgeous Visual Tour of Cecret Lake—Tips for the Hike
We encourage our members to live the healthiest lives possible. To take on that challenge ourselves, we decided to embark on an adventure to Cecret Lake.
Here is some quick information you need to know about Cecret Lake.
Location: Little Cottonwood Canyon near Alta Ski Resort
Parking: There is an upper lot (small and no roadside parking) and lower lot (Albion Basin).
Distance: 1.7 miles each way from lower parking lot. .7 miles each way from upper lot.
For the sake of beauty—and healthy living—we recommend you park in the lower lot at Albion Basin and extend your hike by one mile each direction.
Let's start with the parking situation. What does it look like?
There's plenty of room in the lower lot, and the trail starts to the right of the building with easy access for families and single hikers.
The upper lot fills up very quickly and there is no roadside parking. So if you want a condensed version of the hike, get there early.
Once you descend a small hill from the parking lot, the trailhead for Cecret Lake is clearly marked.
Throughout the hike, the trail consists of mostly hard, loose dirt. Walkers shouldn't slip or slide much but joggers—depending on their speeds— may run a higher risk.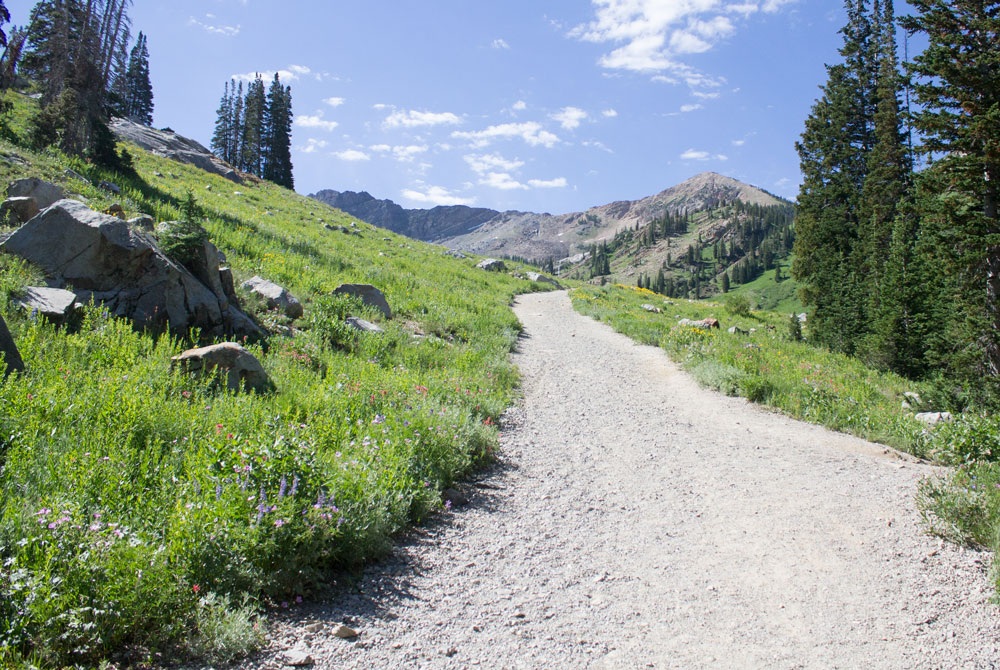 Occasionally you'll encounter boardwalk sections throughout the hike. These are nice to give hikers a change in terrain.
Perhaps one of the best reasons to start from the lower parking area at Albion Basin—aside from the health benefits—is the beautiful variety of wildflowers.
You'll encounter a few small streams to cross during the hike, but you'll be able to stand on sturdy rocks to cross the streams without getting wet. Or you can splash your fellow hikers with your version of puddle jumping—we'll leave that up to you.
Rest areas are easily accessible and visible from the trail. This particular rest area has a stream running just below.
As you get closer to the lake, things get a bit more steep, rocky, and challenging for small children.
You'll also encounter some switchbacks that lead you to the final destination. Parents should consider holding small children's hands.
Perhaps one of the best surprises about this hike is summiting. As you summit, you'll gradually see the lake appear then have your glorious, full view.
There is room to hike around the lake and even above the lake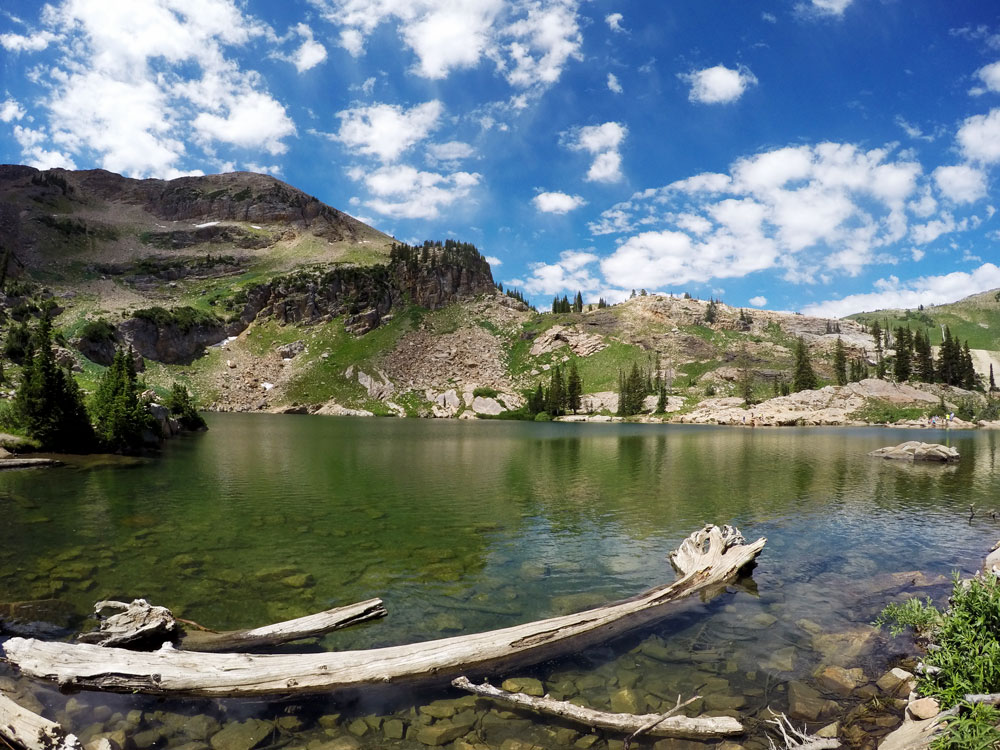 One of the best things about the Cecret Lake hike is that it offers beautiful views from all parts—the ascent, lake view, and descent. Be sure to take time to enjoy the meadows and fresh air.
Follow the "Cecret Lift" trail sign to return to the lower parking area.
Take in an opposing view of the mountains.
Enjoy the wildflowers from a different angle.
The trail remains beautiful to the end.
Now it's your turn to get out and enjoy this beautiful hike. Pack plenty of water, sunscreen, and bug repellent.
Follow us on Facebook and Instagram for more views from this hike and check out other healthy hikes here.
SelectHealth does not endorse, affiliate with, or benefit financially from any of these recreational areas and will not be liable for any damages or injuries that result from your participating in activities at these sites and/or their facilities. You should carefully read and understand the rules and policies surrounding your use of the grounds and facilities of any recreational area, including those listed here.
SelectHealth may link to other websites for your convenience. SelectHealth does not expressly or implicitly recommend or endorse the views, opinions, specific services, or products referenced at other websites linked to the SelectHealth site, unless explicitly stated.