Ready For Some Mountain Biking?
Now is the time to start thinking about tuning up your bike and deciding where to go riding. Here are a few of our favorite places to mountain bike along the Wasatch Front.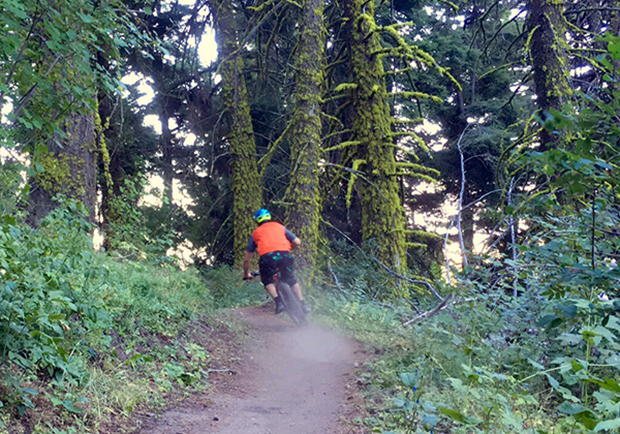 Now is the time to start thinking about tuning up your bike and deciding where to go riding. So grab your helmet, and check out a few of our favorite places to mountain bike along the Wasatch Front.
Corner Canyon
Clark's Trail – Intermediate
Grind up this single track to test your skill. Enjoy lofty views as you take a rest or two on your way to the top. Once you're there, you can choose a downhill trail for your reward. Please note that this trail is restricted to only one direction—up!
Rush – Intermediate, Expert
Just like it sounds, this is straight downhill! You won't see hikers or horses on this trail—just gravel, dirt, and other bikers. This trail has a lot of switchbacks and jumps, so be prepared!
Canyon Hollow Trail – Novice
Flow through the trees and take in your surroundings on this smooth and well-shaded trail. This one is great for getting to the bottom after climbing Clark's Trail. But watch out for uphill traffic and hikers.
Related: 7 Clever Ways to Sneak in a Workout
Millcreek Canyon
Pipeline – Confident Novice
There are a few raises in grade and some areas of loose rock surfaces. Pipeline has great views, if you aren't afraid of heights. This is a popular trail, so be prepared to yield to others and share the road.
Dog lake – Novice
A classic climb with forested switchbacks and great scenery.
Little Dell
Mormon Pioneer Trail – Novice, Intermediate
The scenery on this trail will take your breath away. Start out on pavement, then head into the dirt and singletrack. Enjoy the smooth sections, because the trail will yield to switchbacks as you climb your way to the pass.
Glenwild
Flying Dog – Intermediate
Climb up the mountain, while enjoying the view of the golf course, but pay attention to the trail because there are quite a few rocks. Circle around at the top and be prepared for a fast and amazing descent to the bottom.
The Ant Farm – Novice, Intermediate, Expert
This is a great loop for all riders. Show your skill by how fast you can make it to the bottom. Please note that only downhill traffic is allowed on this trail.
Glenwild Loop – Novice, Intermediate
This trail starts out smooth, but quickly resembles roller coaster terrain. After you climb the mountain, you can zoom down the rocky south side. Watch for the more technical sections on this trail. You might want to take it easy or max out—the choice is yours.
Related: 5 Tips for Planning a Safe Hike
Leave us a comment and tell us your favorite places to mountain bike in Utah, and be sure to check out other healthy living articles.
Select Health may link to other websites for your convenience. Select Health does not expressly or implicitly recommend or endorse the views, opinions, specific services, or products referenced at other websites linked to the Select Health site, unless explicitly stated.
The content presented here is for your information only. It is not a substitute for professional medical advice, and it should not be used to diagnose or treat a health problem or disease. Please consult your healthcare provider if you have any questions or concerns.
Select Health does not endorse, affiliate with, or benefit financially from any of these recreational areas and will not be liable for any damages or injuries that result from your participating in activities at these sites and/or their facilities. You should carefully read and understand the rules and policies surrounding your use of the grounds and facilities of any recreational area, including those listed here.