Winter Blues Getting You Down?
Know the signs of seasonal affective disorder and how to treat it.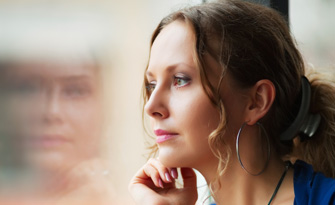 Seasonal shifts and lack of natural sunlight during the winter months can cause some people to experience a change in mood—this is called Seasonal Affective Disorder (SAD).1 Experts believe that the lack of sunlight upsets our body's biological clock and can affect levels of serotonin—a chemical in the brain that affects mood. SAD is more likely to occur in women than in men, and younger people are more at risk than older adults. Other risk factors include a family history of SAD, having clinical depression, and living far from the equator.
People with SAD may notice symptoms beginning in the fall that can last throughout the winter months, depleting energy and causing moodiness. Typically, these symptoms go away at the beginning of spring or summer. The symptoms of SAD can be similar to the symptoms of major depression, but typically the symptoms associated with SAD are seasonal.
To help you identify if you are experiencing the disorder, here are some symptoms of SAD:
Irritability
Low energy
Appetite changes
Weight gain
Moodiness and anxiety
Oversleeping but still feel tired
Loss of interest in normal activities
Regular exercise is one of the best things you can do to offset these symptoms. Better yet, exercising outdoors will expose you to natural light—so exercise in the early part of the day when the sun is shining is best. Being more active will help you have more energy and feel less depressed. Some people respond well to bright light treatment—lights that are brighter than normal indoor lights that you can use while you eat breakfast, read, or work at a desk.
It's normal to have a few days when you feel down, but if the symptoms persist, you should see your doctor. This is especially important if you notice changes with your sleep, appetite, or if you're experiencing feelings of hopelessness or suicide. Your doctor could recommend medication or counseling to help you feel better again.
Select Health may link to other websites for your convenience. Select Health does not expressly or implicitly recommend or endorse the views, opinions, specific services, or products referenced at other websites linked to the Select Health site, unless explicitly stated.
The content presented here is for your information only. It is not a substitute for professional medical advice, and it should not be used to diagnose or treat a health problem or disease. Please consult your healthcare provider if you have any questions or concerns.
References
"Seasonal Affective Disorder." MedlinePlus. U.S. Department of Health and Human Services, 06 Jan. 2016. Web. 13 Jan. 2016. <https://www.nlm.nih.gov/medlineplus/seasonalaffectivedisorder.html> "Seasonal Affective Disorder (SAD)." Mayo Clinic. Mayo Foundation for Medical Education and Research, 12 Sept. 2014. Web. 13 Jan. 2016. <http://www.mayoclinic.org/diseases-conditions/seasonal-affective-disorder/basics/definition/con-20021047> "Seasonal Affective Disorder." WebMD. WebMD, n.d. Web. 13 Jan. 2016. <http://www.webmd.com/mental-health/tc/seasonal-affective-disorder-sad-topic-overview>