Healthy Holiday Swap
What you drink can add extra calories to your holiday meal—and it could affect your waistline. Make this simple switch to save some calories this holiday season.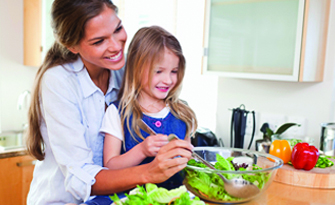 Eggnog vs. Spiced Apple Cider
If you're eating a holiday meal, calories can add up quickly. It's easy to forget that what we drink adds to our daily calories—and to our waistlines.
Although it's a seasonal favorite, eggnog is creamy, thick, and frothy for a reason—it's made from heavy cream, eggs, and sugar. Save a few calories by opting for a spiced apple cider drink instead of calorie-laden eggnog.
How it Compares
Serving size 1 cup
Eggnog
343 calories
19 g fat
150 mg cholesterol
6% daily value of vitamin C
Spiced Apple Cider
130 calories
0 g fat
0 mg cholesterol
100% daily value of vitamin C
Choosing spiced apple cider instead of eggnog saves 213 calories (not to mention fat, sugar, and cholesterol).
Related: Benefits of Drinking Tea
Other ways to choose healthier beverages during the holidays
Use low-fat milk in hot chocolate and coffee beverages
Enjoy a cup of unsweetened tea or coffee instead of fancy beverages that are loaded with sugary syrups
Make a healthy drink from sparkling water and a squeeze of lime
Choose 100-percent-fruit juice instead of soda
Better yet, choose water—it's calorie free!
References
Calorie Count. "There's Strength in Numbers." 2015. Web. 04 Nov. 2015.
Mayo Clinic. "Holiday Beverages That Are Light and Right." 11 Dec 2013. Web. 28 Oct 2015.
Web MD. "The Naughty List of Holiday Foods." 06 Feb 2014. Web. 28 Oct 2015.
Select Health may link to other websites for your convenience. Select Health does not expressly or implicitly recommend or endorse the views, opinions, specific services, or products referenced at other websites linked to the Select Health site, unless explicitly stated.
The content presented here is for your information only. It is not a substitute for professional medical advice, and it should not be used to diagnose or treat a health problem or disease. Please consult your healthcare provider if you have any questions or concerns.